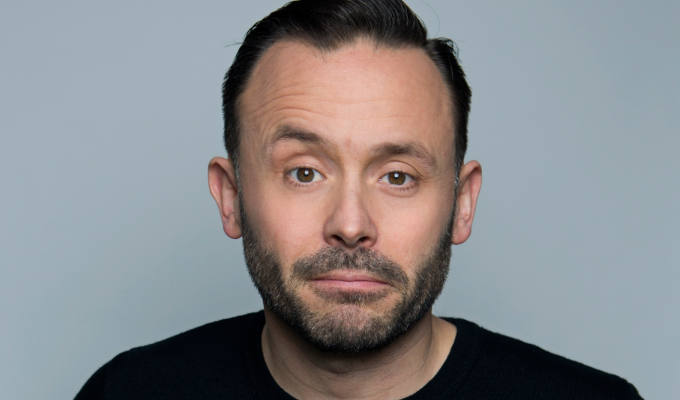 Geoff Norcott's grand gesture
Geoff Norcott is to donate £1,000 to charity – after being caught out by Chortle.
The comedian vowed to make the payment if anyone could prove him wrong during an online debate about politics in comedy.
Norcott, whose jokes come from a right-of-centre standpoint, had been likened to Jim Davidson by some Twitter critics. But the Mash Report regular insisted that while such-old school comics might have been right-wing off stage, they kept their opinions out of their act.
'£1,000 to charity if anyone can dig out a Jim Davidson routine about politics,' he tweeted. 'I must've missed the bit on Big Break where him and John Virgo were digging out the unions.'
But Chortle editor Steve Bennett quickly quoted Davidson's 2003 stand-up special Vote For Jim, which contains plenty of political gags, as the title suggests.
One routine involves him joking that Tony Blair 'fucked our country right up' and spitting when he mentioned the Labour Party.
Well there was a fair bit in his Vote For Jim show… (3'44" is a Blair joke, followed by 'protect our borders' material; some more Blair stuff a bit in; then 7mins 55 he says 'Labour Party' and spits) https://t.co/k3Ra5DgMRC

— Steve Bennett (@SteveChortle) August 19, 2020
True to his word, Norcott will now split his donation between food poverty charity The Trussell Trust and Comedy Support Act, a benefit fund for comedians in financial need. 'At least it's a charity I may eventually benefit from when the TV industry finally admits it doesn't give a toss about political diversity,' he joked.
Nortcott added: 'True charity is doing something you don't want to do. And I really don't want to do this. However, the thought of me welching being used as proof right-wingers are evil meant I had no choice. So it's the right thing coming from the wrong place.
'As I'm genuinely pissed off about being proved wrong and having to give money to charity I've insisted that I get something in return, so Steve Bennett has to go on record saying something he wouldn't normally say, like: "I'm very much looking forward to Geoff's book and think it will definitely challenge my view of the Brexit referendum".
Bennett said: 'I'm very much looking forward to Geoff's book and think it will definitely challenge my view of the Brexit referendum.
'I'm delighted he's true to his word, and the donations are so generous it would be churlish of me to undercut them with any sort of sarcastic comment about the Conservative government or about Brexit, both of which are going absolutely swimmingly.'
Published: 20 Nov 2020
Recent News
What do you think?