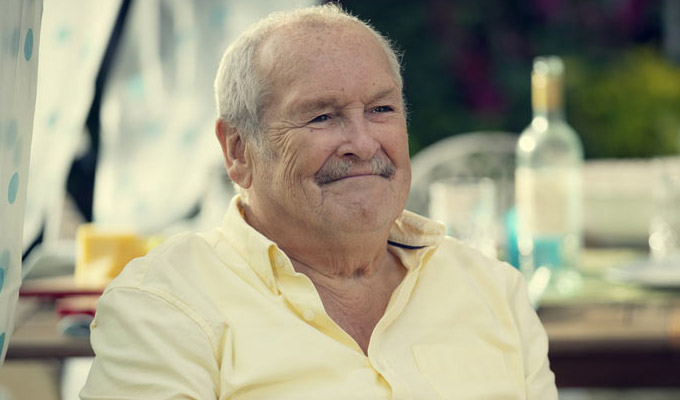 Bobby Ball dies at 76
Bobby Ball died last night at the age of 76 after testing positive for Covid-19.
His manager broke the news this morning, revealing that the comedian had been taken to hospital with what was first thought to be a chest infection.
Ball was in a long-term double act with comedy partner Tommy Cannon and in later years moved into acting in shows including Last of the Summer Wine, Mount Pleasant, and Not Going Out, where he played Lee Mack's dad, Frank. In November, he appeared in the Gold series The Cockfields, where he played Ray, stepdad to Joe Wilkinson's character Simon (pictured above)
Cannon said: 'Rock on, my good friend, I can't believe this, I'm devastated.'
I'm absolutely devastated, I've lost my partner, my best friend and the funniest man I know. Thank you for your messages, prayers and love ❤️

— Tommy Cannon (@TheTommyCannon) October 29, 2020
Ball's wife of 46 years, Yvonne, added: 'I will always miss him, he was so joyful, full of fun and mischievous.'
The statement about his death read: 'It is with great personal sadness that on behalf of Yvonne Ball, and the family, and Tommy Cannon, I announce that Bobby Ball passed away at Blackpool Victoria Hospital on the 28th October 2020 approximately 21:30.
'Bobby had been taken to the hospital for tests as he started with breathing problems. At first it was thought to be a chest infection but a test proved positive for Covid-19.
'His wife Yvonne said the hospital and staff could not have been more wonderful, as they were outstanding in their care of duty and they did everything possible for him and she cannot praise them enough.
'She said that the family and Tommy would like to express their sincere thanks to the many, many people who have been fans of Bobby and they know that they will all share in part the great loss and total sadness that Yvonne, the family and Tommy all feel.
'Yvonne added that their need for privacy at this time has to be a priority. No further announcements or statements will be made.'
Among those paying tribute this morning was comic Jason Manford, who said: 'So heartbroken to read about the passing of comedy legend Bobby Ball. Such a hilarious man. The comedy community is a poorer place without him.'
Les Dennis added: 'Just heard the sad news that the wonderful Bobby Ball has died. He was a true entertainer with real funny bones. Thoughts with Tommy,Yvonne and his family at this sad time. RIP Bobby.'
And impressionist Kate Robbins tweeted: 'I'm so terribly sad to hear that the brilliant Bobby Ball has died. Apparently he had corona virus. God bless your beautiful soul Bobby. You were so funny and lovely. Rest in peace Bob. Xxx'
The BBC's comedy controller added: 'We are devastated to hear the sad news of Bobby Ball passing away. He was a powder keg of comedy who entertained audiences of all ages for decades.
'He was funny to the end, having just completed his work on the forthcoming Not Going Out series and we all feel immensely privileged to have enjoyed the benefit of his talents. Our thoughts are with family and friends at this sad time.'
Ball's real surname was Harper, and with Cannon (real name Tommy Derbyshire) they were a staple of primetime Saturday night TV in the 1980s, with their self-titled LWT show running for nine series. Ball would constantly interrupt straightman Cannon, twanging his braces and saying: 'Rock on, Tommy.' They also starred in the film The Boys in Blue together in 1982.
Their success afforded them a lavish lifestyle. They bought matching Rolls-Royces, beachfront homes in the Canary Islands, and cabin cruisers. Cannon even bought Rochdale football club.
But after their TV series was cancelled in 1992, they were faced with a tax bill of £1.9million in today's money and in 2017 Cannon, now 82, declared bankruptcy.
In their heyday, Ball had a reputation for a hellraising lifestyle until he became a Christian in 1986 and put his wild days behind him. Cannon, who had left his wife of 30 years for Hazel, a dancer in one of their shows, followed suit eight years later. Together, they published a book called Christianity for Beginners
In 2005, Ball took part in reality series I'm A Celebrity... Get Me Out of Here!
Here he is on Not Going Out.
* When Rik Mayall appeared with Cannon and Ball
Published: 29 Oct 2020
Recent News
What do you think?