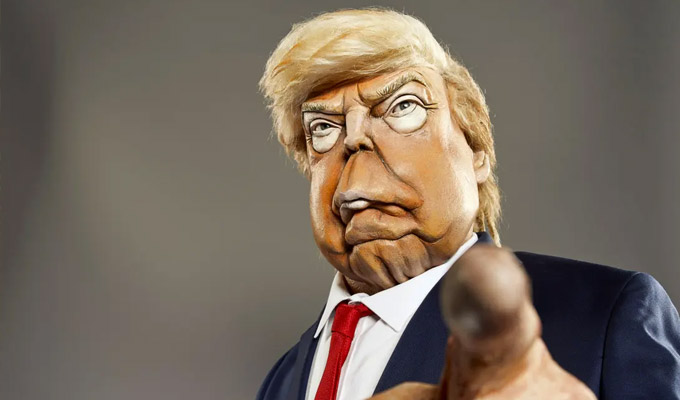 US network 'too nervous' to make their own Spitting Image
American broadcasters have backed away from making their own version of Spitting Image for fear of causing offence, its producers have claimed.
The NBC network was reportedly close to a deal to air the topical show, which returned to UK screens via streaming service Britbox last weekend, but pulled out just six weeks ago.
Jon Thoday, executive producer at production company Avalon told The Times that there was 'too much nervousness' at the upper echelons of the broadcaster.
He told the newspaper: 'You can't really do Spitting Image unless you're fighting the corner of attacking everybody, but by doing that people just get nervous. They think they want it, but when they've got it they just start worrying about it.'
Hollywood website Deadline also reported the news that a US deal fell away just over a month ago.
When news of the revival broke last year, series co-creator Roger Law emphasised that America was in their sights, saying: 'If you're going to go after the bastards, you may as well go after the biggest bastards there are.'
Streaming services such as Hulu and Amazon were also linked to a possible deal, and Avalon still hopes to find a US partner.
The plan was to use some of the same sketches for the American version, but swapping UK-specific scenes for those targeting US figures.
Writers on the show include Americans such as Bill Odenkirk and David X. Cohen alongside UK comedians including Al Murray, Gemma Arrowsmith Matt Forde, Phil Wang, Richard Herring, Sophie Duker and Travis Jay.
NBC aired some compilation episodes of the original ITV series in the late 1980s, reportedly prompting President Ronald Reagan to complain.
Thoday says. 'It was the only show in their history where a sitting president phoned them up and asked for a show to be cancelled.' he said. However Donald Trump has repeatedly used Twitter to NBC's Saturday Night Live to be axed.
The first episode of the new Spitting Image was made available on Facebook in the US for 24 hours after its Birtbox debut, and clips have been posted online, with a sketch about Donald Trump and coronavirus attracting almost 500,000 views on YouTube alone.
NBC did not respond to The Times's request for comment.
Producers also just released this skit about the Cabinet discussing the effects of Covid on students:
Published: 7 Oct 2020
What do you think?