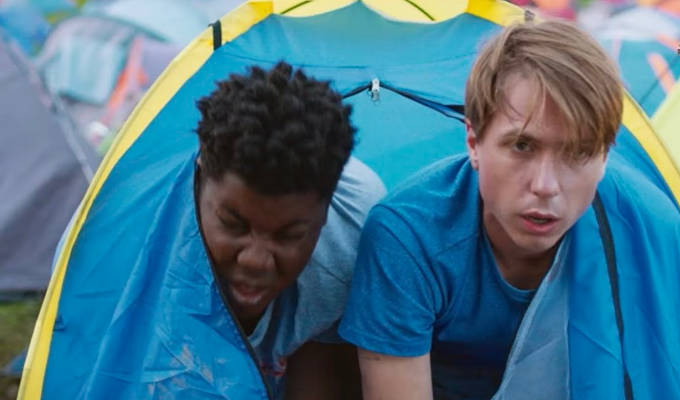 All the fun of The Festival
The best of the week's comedy on TV and radio
Monday September 28
STAND UP FOR LIVE COMEDY: BBC One airs the stand-up showcase that has been on iPlayer since Friday. Filmed outdoors in six different cities with socially distanced audiences, the series aims to support grassroots comedy talent walloped by Covid-19. Kicking off in Bristol, Jayde Adams introduces Mo Omar, Lauren Pattison and Tom Lucy, BBC One, 10.45pm
Wednesday September 30
THE FESTIVAL This 2018 comedy movie was directed by Iain Morris from The Inbewteeners, and stars Joe Thomas from The Inbetweeners and Hannah Tointon from The Inbetweeners. So no great surprises what the vibe is. Thomas plays Nick, a graduate who gets dumped by his girlfriend so goes to a music festival to get over it with a hedonistic weekend in the mud. Tonight the film gets its first free-to-air broadcast. Film 4, 9pm. It's followed by Rough Night, a 2017 comedy about a hen's night gone wrong starring Demi Moore and Scarlett Johansson alongside a host of comedy stars including Kate McKinnon, Ilana Glazer, Ty Burrell, Bo Burnham, Eric Andre and Hasan Minhaj. Film 4, 11.05pm.
HILARIOUS HISTORIES: WHAT'S SO FUNNY ABOUT THE PAST? Greg Jenner, the historical consultant to Horrible Histories, learns how comedy writers make history funny in this three-part archive programme, which initially aired in a single show. It features extracts from Austentatious, Eddie Izzard and Monty Python discussing the controversy surrounding The Holy Grail and Life Of Brian. Radio 4 Extra, 11am
Thursday October 1
FRANKIE BOYLE'S NEW WORLD ORDER: This week the uncompromising Scot is joined by Miles Jupp, Kiri Pritchard-McLean and Jamali Maddix to discuss the latest outlandish propositions. BBC Two, 10pm
NICK HELM: THE KILLING MACHINE: A repeat airing for this short film in which the comedian plays a 'happy-go-lucky human car crash' who turns up at the boxing gym one day with a simple goal - to be a killing machine. BBC Two, 10.30pm
Friday October 2
RANDOM ACTS OF FLYNESS: When this sketch comedy series from artist Terence Nance launched on HBO in the States in 2018, it was described as a 'fluid, mind-melting stream-of-conscious response to the contemporary American mediascape' in which each episode will 'feature interconnected vignettes that makes the series a unique mix of vérité documentary, musical performances, surrealist melodrama and humorous animation'. Positive reviews suggest it's not as pretentious as that makes it sound - and now you can judge for yourself as it comes to the UK. Sky Comedy, 9.35pm
Saturday October 3
JONATHAN ROSS'S COMEDY CLUB: Huge Davies, Sikisa, Rosie Jones and Katherine Ryan join the chat show king and co-host Mawaan Rizwan in tonight's edition of ths stand-up showcase. ITV, 10pm
Published: 27 Sep 2020
Recent News
What do you think?