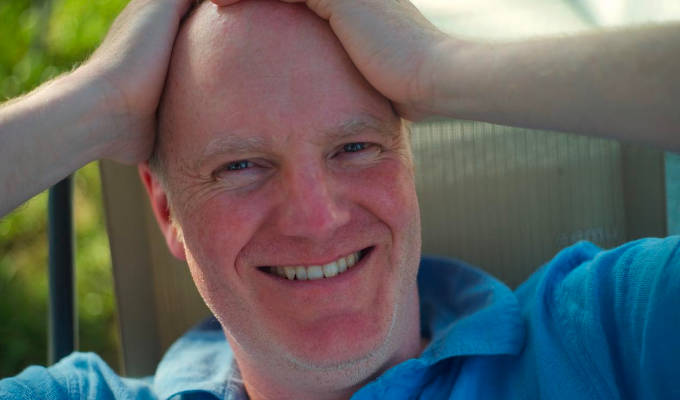 Tributes as The Windsors co-creator George Jeffrie dies at 56
Comedy writer George Jeffrie, who co-created the Royal Family spoof The Windsors has died of a heart attack at the age of 56.
He was playing tennis with a friend when he collapsed last Saturday afternoon.
In a statement, his agent Nick Barron of United Agents said: 'George was a warm, friendly, funny man, enormously well-liked in the TV comedy industry – as the outpouring of grief on social media attests.
'George died playing tennis with a friend on Saturday afternoon – 5-3 up in the first set – in his local tennis club with the sun shining.'
Chortle has not reported his death until now at the request of his family. He is survived by wife Sally and 17-year-old daughter Kate.
With his long-time writing partner Bert Tyler Moore, pictured with him below, Jeffrie also created Star Stories and Pete Versus Life, starring Rafe Spall, both for Channel 4.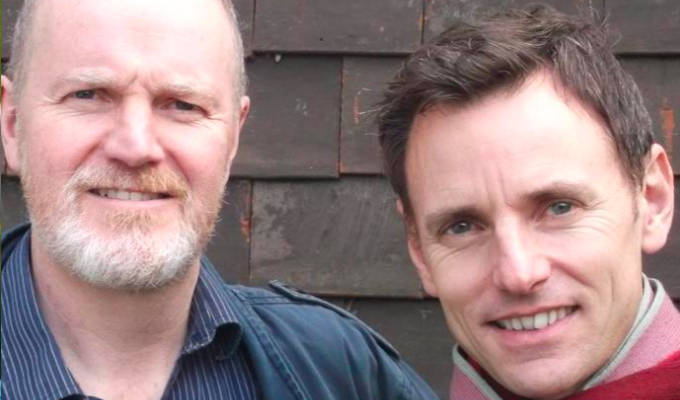 The pair also contributed to countless sketch and entertainment shows over two decades, including Armstrong & Miller, Smack The Pony, Big Train, The Kumars At No. 42, Ruddy Hell! It's Harry And Paul and the upcoming series of Spitting Image.
Before he became a writer, George was a stand-up comedian, and part of the double act Chris & George in the early 1990s. They appeared as part of the Comedy Zone at Edinburgh and at the Reading Festival..
Comedians and writers paid tribute online, with the word 'lovely' featuring in almost every post.
Veep writer Simon Blackwell tweeted: 'George was such a lovely, lovely bloke, and so funny. I worked with him and Bert on the Kumars and it was a joy to go to work. No-one has ever made me laugh so hard. My love and condolences to his family and friends. A horrible loss.'
Fellow writer Jason Hazeley said: 'George has checked out. He was a brilliant and tireless writer, and his absence is sharply felt. We already miss you, George. Thanks for being here. You left a lot of laughter.'
Kumars star Sanjeev Bhaska added: 'Awfully sad news at losing #GeorgeJeffrie, a lovely, warm darling of a man and of course brilliantly funny. It was always a joy to see him and Bert walk in to the Kumars rehearsal room and to await their joyous contributions
And Jenny Eclair tweeted: "Lovely , lovely bloke to work with - kind, gentle, patient and wonderfully funny - condolences to all his nearest and dearest
I'd like to pay tribute to the wonderful writer and human George Jeffrie who very sadly died over the weekend. I'll never forget his humour, his devoted perfectionism, or his mischievous giggle. Here's a pic of him on The Windsors series 2. That smile. We'll all miss him hugely. pic.twitter.com/gKT3AfbWzw

— Izzy Mant (@Izzymant) September 23, 2020
Writing on Facebook, Phil Whelans said: 'No one ever had a bad word to say about him. Genuinely lovely bloke.'
Ivor Dembina said: 'Sad and slightly shocked to hear. Only fond memories of a very nice chap. Condolences to all his family and friends.
And Henry Naylor said: 'That's awful. Such a nice guy. '
A funeral service will be held in coming weeks.
Although numbers will be limited because of Covid-19, Baron promised 'there will be a huge party to celebrate his life next summer – and all his friends are invited.'
Published: 25 Sep 2020
Recent News
What do you think?