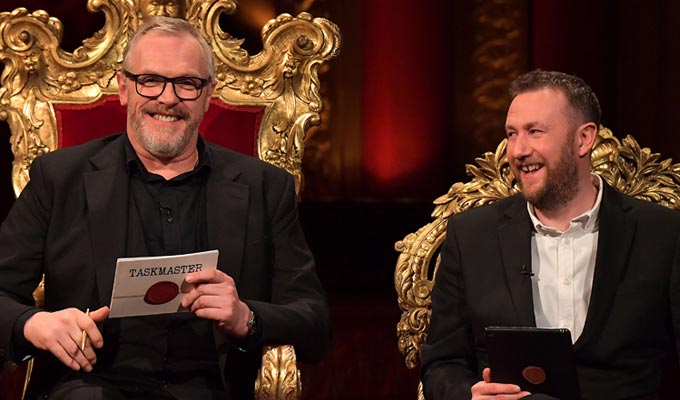 America dumps Taskmaster after just one episode
It has been successfully sold around the world – but an American broadcaster has pulled its run of Taskmaster from the schedules after just a single episode.
The CW bought the rights to series 8 and 9 of the British original, which it launched at 9pm on Sunday.
But after attracting disappointing ratings, the broadcaster has yanked the rest of the run. The episode attracted just over 200,000 viewers – the lowest audience for a first airing of an episode of any show on the network in 11 months.
Hollywood trade press are reporting that Taskmaster may be put on the network's free streaming platform, CW Seed, but that it won't be returning to the broadcast schedule.
The ratings problems come despite widespread acclaim for the show in previews across the US media.
But two years ago, an American remake of Alex Horne's format failed to make much of an impact, with Reggie Watts in the Taskmaster role and contestants Lisa Lampanelli, Freddie Highmore, Ron Funches, Dillon Francis, and Kate Berlant. That show ran for just one series on Comedy Central.
In series 8 of the UK show, which The CW aired at the weekend, Iain Stirling, Joe Thomas, Lou Sanders, Paul Sinha and Sian Gibson were set bizarre challenges by Greg Davies.
Made by Avalon, Taskmaster has been sold to 106 countries, either as original episode or as remake rights.
Local versions have been made in Belgium, Spain, New Zealand, Norway, Denmark, Finland, and Sweden.
In the UK, series ten will launch on Channel 4 in the autumn, after the broadcaster snaffled the rights from Dave. Contestants will be Daisy May Cooper, Johnny Vegas, Katherine Parkinson, Mawaan Rizwan and Richard Herring.
The show has grown into a ratings juggernaut for Dave, with episodes of the last series attracting up to 1.5million viewers within 28 days of broadcast. And on Friday it won the Bafta for best comedy entertainment programme, the first time a UKTV show has won such an accolade.
Published: 6 Aug 2020
What do you think?