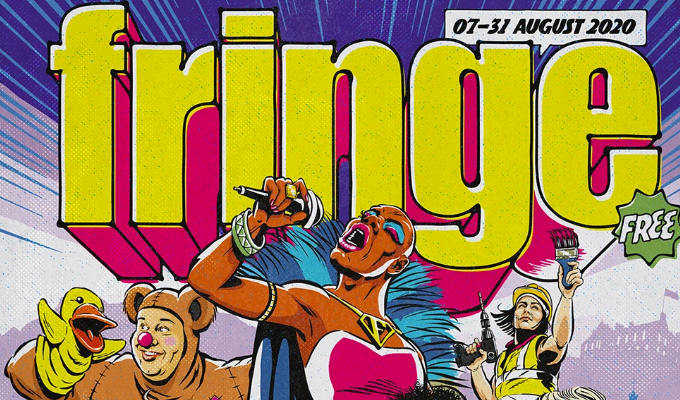 Revealed: What Edinburgh Fringe programme WOULD have looked like
Here's what this year's Edinburgh Fringe programme would have looked like, had the festival gone ahead.
Designed by celebrated contemporary artist Butcher Billy, the campaign is based on the theme of 'the heroes of the Fringe'.
Festival organisers – who today unveiled alternative plans for digital events this summer – have also released merchandise including a jigsaw and poster using the design in a bid to raise funds
Shona McCarthy, chief executive of the Edinburgh Festival Fringe Society, said: 'It's hard to imagine a summer without the Fringe. The explosion of creativity and community that the festival brings every year is unparalleled, and while we may not be able to provide a stage in Edinburgh in quite the same way this year, it feels hugely important that the spirit of this brilliant festival is kept alive.'
'Little did we know way back in autumn, when we first started talking about this year's programme artwork, how prescient the superhero theme would be today. We're happy to be able to shine a spotlight on some of our Fringe heroes now, as we rally round to support the people that make your Fringe. On the other side of this, we'll need them more than ever.'
Among alternative festival events announced today, are Fringe On A Friday, an hour-long variety show which will be streamed on August 7, 14, 21 and 28. Venues and acts will all be able to sell tickets and keep all the proceeds
The festival is also offering a Fringe Pick n Mix, with 60-second clips from performers who would have been in Edinburgh this August.
Meanwhile, an audiobook featuring more than 20 Fringe comedians will be launched next month, while, Comedy Central has also announced some online programming from festival acts.
Individual promoters have also announced plans for live-streamed shows over the month, including the Laughing Horse Free Festival and Gilded Balloon.
Published: 13 Jul 2020
What do you think?