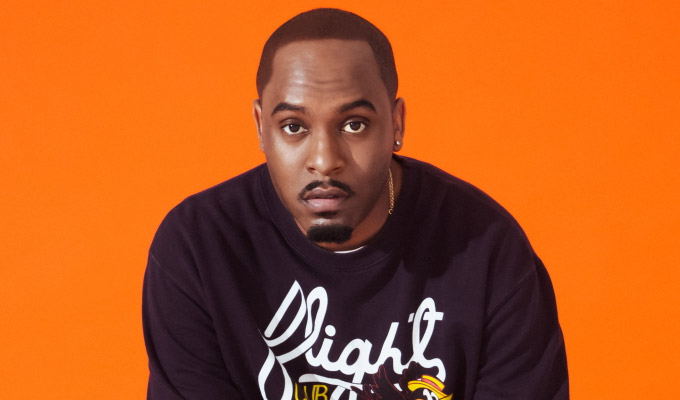 Enjoy the Edinburgh Fringe... as an audiobook
More than 20 comedians will showcase their work in a new audiobook, which aims to offer a taste of the cancelled Edinburgh Fringe.
Those taking part in the Edinburgh Unlocked project include Ivo Graham, Jessie Cave, Sofie Hagen, Dane Baptiste (pictured), Jordan Brookes, Glamrou, Mo Omar and sketch duo Shelf – as well as comedians who would have been making their debut this year, including Leo Reich, Chloe Petts and Jake Farrell.
The audiobook will be released on August 6, and is a tie-up between Penguin Random House Audio and the Edinburgh Festival Fringe Society.
Shona McCarthy, chief executive of the society which coordinates the festival, said: 'In what has been an incredibly challenging year, we have been working as hard as we can to ensure that the spirit of the Fringe is not forgotten.
'In times of crisis, creativity and community are needed more than ever, and this audio collection is a brilliant reminder of that. It's also a great way to keep the voices of our comedians and creatives in our ear as we try to navigate the new normal.'
Duncan Honeyman, senior commissioning editor at Penguin Random House added: 'We are delighted to be working with so many brilliant comedians, producers and directors on this exciting audio original.
'The creative collaboration between so many parties has been amazing to witness, and although we are devastated the Fringe is not going ahead this year, we hope that Edinburgh Unlocked can capture the spirit of the festival and reach as many listeners as possible.'
Live comedy production companies including Fight In The Dog and Berk's Nest are helping put together the audiobook, which will have an rrp of £16. A proportion of the cover price will go to the Fringe .
Publishers also promise a dedicated marketing and publicity campaign throughout August designed to celebrate the Fringe atmosphere of the Fringe.
The audiobook is the second tie-up announced by the Edinburgh Festival Fringe Society today, following a series of Fringe-themed digital shorts with Comedy Central.
Published: 13 Jul 2020
What do you think?