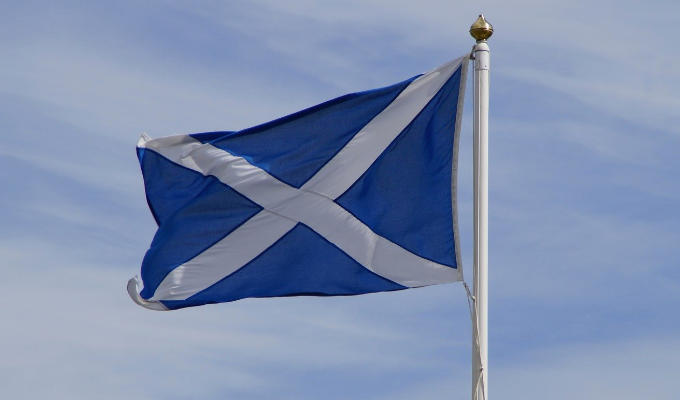 Save Scottish comedy!
The Scottish comedy circuit has formed a new trade body to try to secure a financial lifeline to save the industry as it stands on the brink of collapse.
Comedians, writers, performers, producers, promoters, directors and venue owners are lobbying the Scottish Government for a slice of the £97million arts and culture bailout package announced in Westminster this week.
The newly-formed Association of Scottish Comedic Arts (ASCA) is demanding urgent talks with Creative Scotland, urging the funding body to finally officially recognise comedy as an art form, so unlocking access to the cash.
Organisers of the ASCA say they are complementing the work of the newly-formed nationwide Live Comedy Association, but specifically targeting devolved bodies north of the border.
A spokesperson for the Scottish group said: 'The comedy industry in Scotland is in danger of falling down the cracks between the available emergency financial packages for not entirely fitting the criteria for either the hospitality industry or the arts and culture money announced this week.
'Creative Scotland who are likely to administer the vast bulk of the £97million have for many years refused to acknowledge comedy as an art form.
'This locks our industry out of cash meant to keep the lights on for a viable and vibrant sector which for decades has been self funding, commercially successful and a huge part of Scottish life both in a live setting and on our radios and TVs.
'Scotland has seven dedicated and established comedy venues as well as pop up clubs, monthly regional gigs and grassroots nights that are facing extinction if they are excluded from this round of emergency money.
'It would be a scandal if there were no Scottish-owned and run comedy venues included at next year's Edinburgh Fringe where 40 per cent of its programme of 4,000 shows are comedy.
'We want an industry that has fostered and nurtured some of Scotland's biggest exports and brightest stars from Billy Connolly, Daniel Sloss and Kevin Bridges to Frankie Boyle, Janey Godley and Craig Ferguson to finally be recognised as an art form and unlock the vault of money available to other arts such as ballet, opera, jazz, classical music, theatre and storytelling.
'It seems as an industry comedy is being punished for being popular and abandoned at our time of greatest need. We are not used to having the begging bowl out and normally we laugh in the face of adversity and at the darkest of times. But now Scotland's comedy community is deadly serious, we are fighting for our lives and we need Scotland's arbiters of art and culture to recognise not only our artistic merit and cultural worth but acknowledge the huge economic benefit we bring year round, year in and year out.'
Last month the Scottish Government formed a partnership of 14 experts from the culture sector to plot a recovery to the Covid-19 - which again excluded the comedy industry.
The ASCA was founded by Susan Morrison and features fellow comedians JoJo Sutherland, Elaine Miller, Bruce Fumey, Paul Sneddon (aka Vladimir McTavish), Billy Kirkwood, Ray Bradshaw, Liam Withnail and Scott Agnew on the steering committee, among others.
Katy Koren, artistic director of Edinburgh's Gilded Balloon, has written on open letter to Creative Scotland on behalf of the ASCA asking for:
Comedy venues to be allowed access to bailout funds
Comedy to be recognised as a 'fundable art form'
Ticket sales to be exempt from VAT
A detailed roadmap to get venues open without social distancing
Support in extending the furlough scheme for the performing arts
Help lobbying for rent holidays for comedy venues and business rate relief across the 'entire live comedy performance supply chain'.
The ASCA is urging any MPs, MSPs, councillors or anyone concerned with comedy being excluded from arts and culture talks and emergency cash to contact info@scottishcomedicarts.co.uk
Published: 8 Jul 2020
What do you think?