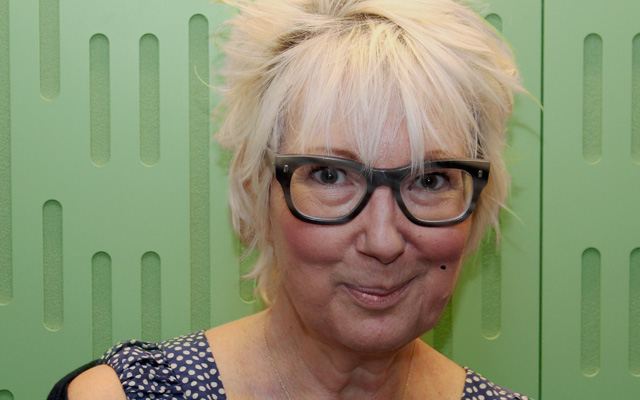 Jenny Eclair writes her guide to the menopause
Jenny Eclair is writing a 'refreshingly honest menopause survival guide' to be released this summer.
Publishers Quercus acquired the rights to the book, Older And Wider, which is based on the podcast she co-hosts with Grumpy Old Women producer Judith Holder.
According to the blurb, 'Jenny's whistle-stop tour of the menopause in all its glory will make you realise that it really isn't just you. Jenny will share the surprising lessons she has learnt along the way as well as her hard-won tips on the joy of cardigans, dealing with the empty nest (get a lodger) and keeping the lid on the pressure cooker of your temper (count to twenty, ten is never enough).
Quercus's editorial director Jane Sturrock, acquired rights from Eclair's agent Avalon.
She said: 'I am thrilled to be publishing Jenny's book. I'm amazed at how we still lower our voices when we talk about the menopause – how can something that will impact half the population still be considered a taboo?
'Jenny has no time for that mealy-mouthed earnestness and it is incredibly refreshing to read such a hilarious, irreverent and honest account of this stage of life. While there is no one size fits all menopause, I hope readers will find comfort in the fact that they are not the only one wondering what the hell just happened.'
Eclair added: 'I can't say that I've emerged like a beautiful Butterfly from some hideous old menopausal chrysalis and it would be a lie to say that I've found the "old me" again. But what I have found is the "new me" – and you know what? I'm completely cool with that.'
She has previously written the novels Camberwell Beauty; Having A Lovely Time; Life, Death and Vanilla Slices And Moving; and Inheritance as well as the short story collection, Listening In.
Older and Wider: A Survivor's Guide to the Menopause will be published by Quercus in hardback on July 2. Click here to order.
Published: 21 Feb 2020
What do you think?