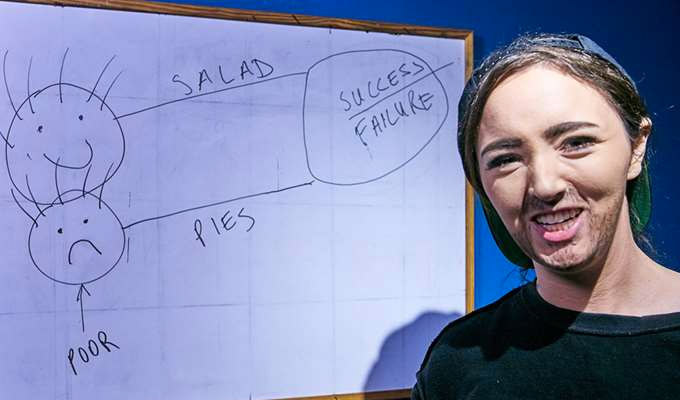 Can Fern Brady break the internet?
The week's best comedy on demand.
Carl Hutchinson: I Know I Shouldn't Behave Like This
Yesterday, purportedly as a Valentine's day treat, the Geordie comic released his stand-up special on YouTube for free.
Recorded in front of a home crowd at Newcastle's 1,100-seater venue Tyne Theatre & Opera House, the comedian discusses some not-so-serious events in his life such as buying a house for the first time, his mother and father replacing him with a dog and trying to heat up food in a hotel room.
Fern Brady Goes Viral
In this new BBC Scotland programme, the comedian examines what sort of things are popular on the internet – then shamelessly steals their ideas in a bid to become a viral hit.
In this episode, she assaults some strangers, eats an entire lettuce in 30 seconds and puts a curse on her arch nemesis.
Watch on iPlayer.
The Infinite Monkey Cage Extra
In this short video spin-off from their hit Radio 4 pop science show, Brian Cox and Robin Ince send comedian Lucy Beaumont to investigate UFO sightings in her home town of Hull. And she doesn't have to look far as her own mum, GIll Adams, claims to have experienced a number of close encounters. Watch on iPlayer
Get A Proper Job
A more serious offering here, with a podcast that looks at creative jobs – and this episode that focusses on comedy and the toll that the precarious working life as as a stand-up can take, with unpaid gigs, irregular payments and the need to cosy up to promoters to get gigs.
Hosted by Kayleigh Mcleod, the podcast also features Dr Dimitrinka Stoyanova Russell of Cardiff Business School, who researched the subject, and Welsh comedian Steffan Evans.
Listen on Creative Cardiff.
Published: 15 Feb 2020
What do you think?