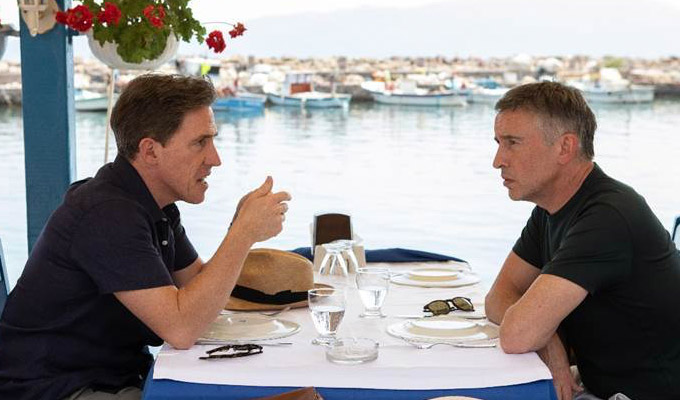 The last Trip for Coogan and Brydon
Steve Coogan and Rob Brydon will make no more series of The Trip.
The upcoming Sky series set in Greece will be the last, following excursions around the Lake District, Italy and Spain.
Coogan told reporters at a screening last night: 'I was going to say quit while you're ahead but if that was the case we would have quit with [series] 3. But quit while you're not far behind. Jump before you're pushed.
'We made a joke about being repetitive in this one but I think making jokes about being repetitive about being repetitive gets a bit thin. I'm sure Rob's still got a few years left in him so we'll see a few interesting things.'
The Trip is returning to Sky One on March 3 at 10pm, with the pair visiting hotspots including Assos, Kavala, Stagira, Athens, Epidaurus, Hydra and Plyos.
Sky Studios' director of comedy, Jon Mountague, says: 'What a joy to go island hopping with the incomparable Steve and Rob. Greece is the birthplace of democracy but more importantly the birthplace of [director] Michael Winterbottom's latest vision, which we can't wait to share with our customers. Yamas!'
Published: 5 Feb 2020
What do you think?