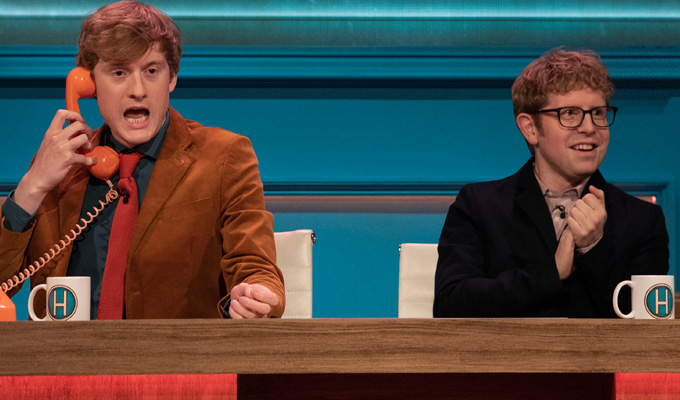 A Hypothetical third series becomes reality
Josh Widdicombe and James Acaster's comedy show Hypothetical has been renewed for a third series.
The Dave channel has confirmed the commission of eight hour-long episodes as the second series starts tonight with Jonathan Ross, Maisie Adam, Sara Barron and Rob Beckett considering how they would deal with preposterous situations.
The third series will air later this year, the broadcaster says.
Widdicombe said: 'Thank you to everyone at Dave and UKTV for again allowing me to piss around with my friend James and put it on TV. I for one won't rest until we have found out whether every celebrity in Britain would wear the big or little hat.
Acaster added: 'So excited to be back on your screens gunging contestants and giving away speedboats baby!'
UKTV's head of comedy entertainment, Iain Coyle, said: 'Commissioning a third series even before the second one has gone out shows how confident we are about this show. Hypothetical is one of the funniest shows I've ever been involved with here at UKTV, it just gets better and better. '
Dave channel director Luke Hales added: 'There is still no script, the guests remain fully on the spot and forced to think off the top of their heads - the result is comedy genius. For my money, this is one of the best comedy entertainment formats in the market at the moment.'
Series two starts at 10pm tonight on Dave.
Hypothetical production credits
Made by: Hat Trick Productions
Commissioned by: Iain Coyle, UKTV head of comedy entertainment, and ordered by Richard Watsham, director of commissioning, Luke Hales, Dave channel director, and Steve North, genre general manager, comedy and entertainment.
Executive producers: Iain Coyle, Stu Mather
Series producer: Danny Carr
Producer: Sophie Le Good
Published: 5 Feb 2020
Recent News
What do you think?