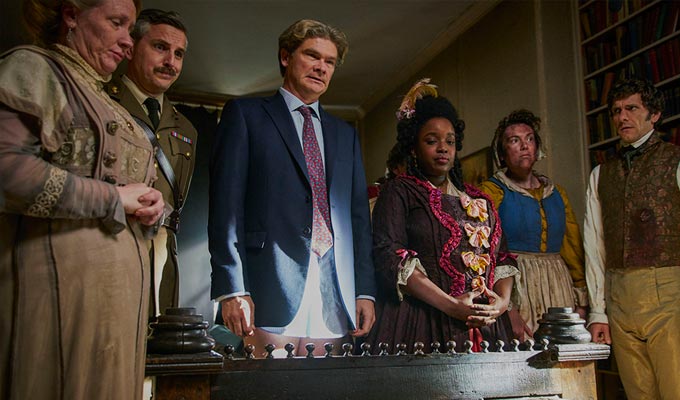 Filming starts on series two of Ghosts
The BBC has announced that filming has begun on the second series of its hit comedy Ghosts – but has tactfully chosen not to mention that the series was created by the team behind Horrible Histories.
The kids' sketch show was at the centre of a media storm this weekend over a sketch, repeated to mark Brexit Day, which was subsequently branded 'anti-British'.
CBBC tweeted the decade-old sketch showing Queen Victoria, being taught that all her 'British things' - including tea, sugar and cotton - come from overseas industries often built on slavery.
"British things… turns out there's hardly any."@MrNishKumar and @HHTV_ are spilling the tea on British stuff in #HorribleHistories #Brexit special ☕️ Streaming now on @BBCiPlayer 👉 https://t.co/2S40YIQuTG @RealMatBaynton pic.twitter.com/jn1EvbYZLX

— CBBC (@cbbc) January 31, 2020
Right-wing commentators including Andrew Neil and Piers Morgan branded the skit, which came with a new introduction by Nish Kumar, as 'anti-British drivel'. However other commentators said it was historically accurate.
A BBC spokesperson responded to the criticism by saying: 'The Horrible Histories video is light-hearted and not anti-British. We are a nation, like most others, that enjoys a patchwork of traditions and culture from other countries. Our children's audience are able to take these things as intended.'
However a press release issued today on behalf of the BBC and programme-makers Monumental Pictures & Television says that the Ghosts 'was the first BBC One project for the creators and stars of [Sky One's] Yonderland and the feature film Bill' – without mentioning their CBBC past.
The show, about a young couple who inherit a country estate only to find it is overrun with ghosts was created by Mathew Baynton – who played the servant in the Queen Victoria sketch, Simon Farnaby, Martha Howe-Douglas, Jim Howick, Laurence Rickard and Ben Willbond.
When both the first and second series was commissioned, the BBC described the team as the writers and stars of Horrible Histories.
The timing of the release is also peculiar – as Baynton tweeted an image from the set that showed filming actually started three weeks ago:
January 13, 2020
In Ghosts, the sitcom's creators play the spirits haunting the Button House, alongside Lolly Adefope and Katy Wix; while Charlotte Ritchie and Kiell Smith-Bynoe play the couple.
Attracting an average consolidated audience of 3.7million, it was the highest-rated comedy series on UK television in 2019.
Broadcast details of the new series have not yet been confirmed.
The creators said int he press release: 'We were thrilled with how warmly series one was received and can't wait to creak open the doors of Button House again and share another clutch of ghost stories.'
Published: 3 Feb 2020
What do you think?