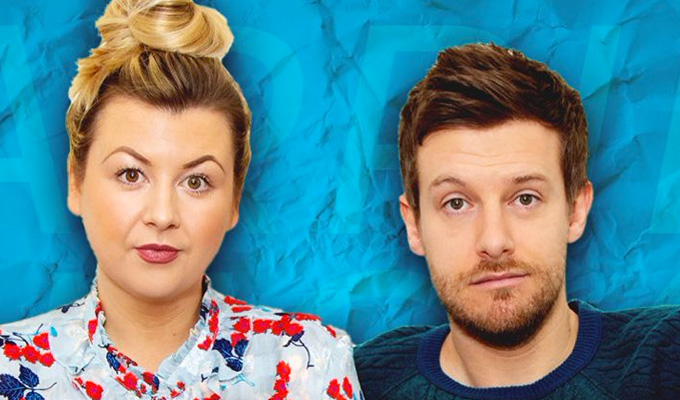 Shagged, Married, Annoyed, Published
Chris and Rosie Ramsey are to release a book based on their top-rated Shagged, Married, Annoyed podcast.
The title – to be published in September – will cover arguments, parenting, growing up and other aspects of their married life, just like the podcast.
According to publishers Michael Joseph, the pair will 'write hilariously and with honesty about the universal highs and lows of life'.
Comic and Strictly star Chris and actress and presenter Rosie will also record an audiobook version of the title.
Rosie tweeted this morning: 'I can't quite believe I'm writing this. My husband @iamchrisramsey and I are currently WRITING a BOOK! An actual real-life book. '
In a statement, the pair said: 'We have been absolutely blown away by the response to our podcast. We record it in our kitchen and just talk about whatever is on our minds at the time, it takes no time or effort at all to do, so we thought we would make the entire process more difficult by doing a book as well.
'Expect more stories, more beefs, more of our take on life, relationships and rude stuff. Neither of us has ever really wanted to write a book, and we are basically only doing it to fill out Rosie's CV. She's now got two jobs guys! Podcaster AND author.'
Charlotte Hardman, publisher at Michael Joseph added: 'Like the millions of other people who have downloaded Shagged. Married. Annoyed, I've fallen in love with the hilariously relatable and honest way that Chris and Rosie talk about relationships. I'm so excited to be working with such an incredibly talented, downright hilarious and genuinely lovely couple.'
The podcast has been downloaded 15.5 million downloads so far.
Preorder Shagged, Married, Annoyed here.
Published: 31 Jan 2020
What do you think?