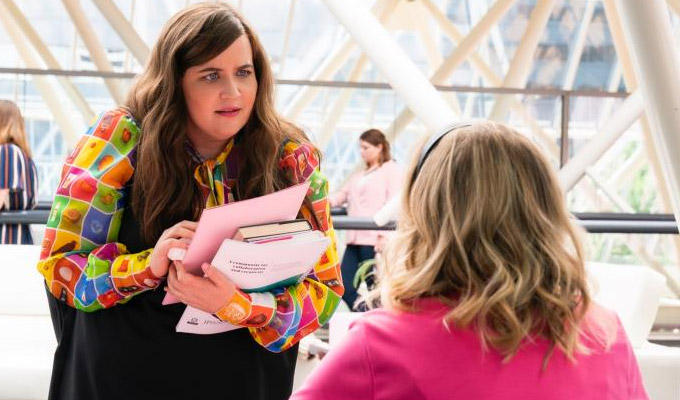 Shrills and thrills
The week's best comedy on demand.
Shrill
Landing on the BBC iPlayer this very morning – the day after its US debut – is the second series of Aidy Bryant's comedy about a woman finding empowerment.
In series one her character, Annie, faced regualar comments about her body shape, but never saws it as in issue herself, happy in her skin. The second run moves on from this premise, relegates her size largely to a non-issue, while concentrating on her still-relatable battles with finding her place in the world.
Shrill also stars Lolly Adefope, who plays Annie's best friend, Fran
The Bugle: The Last Post
Andy Zaltzman's satirical podcast has spawned a daily spin-off. Australian comic and podcaster Alice Fraser hosts these new bite-sized blends of fantasy and factual news, with co-hosts including Zaltzman and Nish Kumar. Former Bugle co-host John Oliver is even there in spirit, voicing the jingles. Available here, or wherever you score your podcasts.
KGB
Made by Indigenous comedians from Western Australian,, this lively cop comedy is about two rookie detectives in Perth's notorious KGB (Koondoola, Girrawheen, Balga) district. Played by Luke and Dan Riches Tough guy Jack and gentle giant Nige deal with the chaos of their new jobs, no-nonsense boss, work rivals, drug dealers and suspects who consistently turn out to be family members. It's on YouTube now, starting here:
The Merv Griffin Show
Running from the 1962 to the 1986, The Merv Griffin Show is widely considered one of the leading talk shows of all time thanks to its in-depth interviews, stand-up routines and top-notch musical guests. Though British comedy fans might know it primarily from the episode of Seinfeld when Kramer found the discarded set from the show.
A season of 38 compilation episodes has landed on Amazon Prime featuring the likes of Richard Pryor, George Carlin, Woody Allen, Mort Sahl,Phyllis Diller, Steve Martin, Jerry Seinfeld and Henny Youngman among the A-listers featured from across the worlds of showbusiness and politics.
Jimmy Carr's Comedy Idol
Fifteen years ago, Carr piloted an X Files-type show for comics as a DVD extra, with the prize of getting to support him on tour. More than 100 comedians took part including Ed Aczel, Suzy Bennett, Gerry Kyei, James Mullinger and Colin Owens. They might want to forget their early attempts at stand-up… but Carr has just released the programme in full on YouTube:
The Three Questions with Andy Richter
Acclaimed comedian Maria Bamford sits down with Andy Richter, best known as Conan O'Brien's sidekick, to chat about the goodness of Los Angeleans, auditioning to become a police officer, and her favourite 12-step programmes in this week's episoe of the podcast. Listen here.
Published: 25 Jan 2020
What do you think?