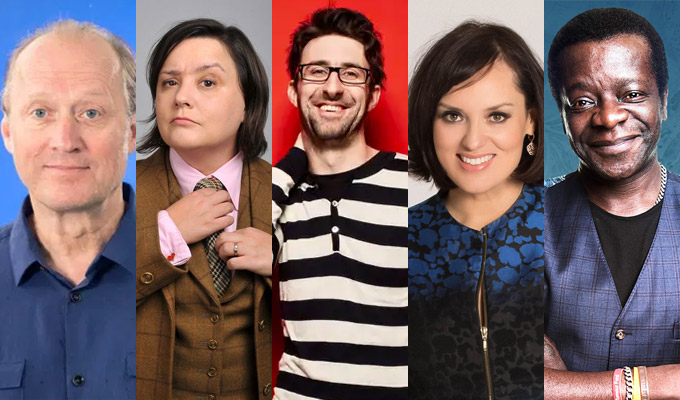 Comedians take over Radio 3
Five comedians are to talk about their comic inspirations in a short series of talks on Radio 3.
Adrian Edmondson, Susan Calman, Mark Watson, Deborah Frances-White and Stephen K Amos will each speak about a professional hero in the station's regular late-night 'essay' slot from February 17.
The 15-minute shows, which air at 10.45pm, are always given over to writers offering 'insight, opinion and intellectual surprise', with a different theme each week.
But in his essay considering 'the pursuit of laughter', Edmondson admits he cannot even remember the name of the comedian which had such an impact on him.
It was an act from the early days of the Comedy Store, which he describes as one the funniest things he has ever seen and led to his understanding of what comedy could be as they played with the audience and their expectations to riotous, hysterical, effect. But who was it?
Calman has chosen to speak about Victoria Wood, saying she was the inspiration for her own decision to give up a legal career to become a comedian, having first viewed her An Audience With… at the age of 14.
Watson's essay is on The Simpsons, the animated show he first saw when he was just 12 years old. At that time it was only available on satellite TV, which his family did not have, but his father had brought home two VHS tapes each with a couple of episodes from the first series.
In his programme, Watson considers how, after all these years, the cartoon and the fearlessness of its creators still informs his own work.
Frances-White will talk about Fleabag, which she first encountered when she booked a 'somewhat reluctant' Phoebe Waller-Bridge to do a ten-minute work-in-progress spot in a dusty basement theatre in Soho, Central London, in 2012.
Part stand-up, part storytelling, that night marked the first public appearance of what was to become a cultural phenomenon. Guilty Feminist host Frances-White recalls the impact of that first performance, how it helped drive a new revived wave of feminism and how it emboldened her own work.
And in Amos's show, he speaks about Red Foxx, the American comic he discovered when he and his family moved back to Nigeria when he was a teenager
There, for the first time, he saw sitcoms, imported from American, about black families whose lives he recognised and where the ethnicity of the lead characters was not central to the story or the punchline to a joke.
One of his favourite shows was Sanford & Son – the US remake of Steptoe & Son – and for his essay Stephen has chosen one particular episode and its star, Foxx, who took the lead part.
As he came to know more about Foxx's life, Amos says began to see the possibility of a career of his own in comedy.
Last week, The Times reported how Radio 3 bosses were seeking to make programmes more accessible to younger listeners, as nearly half of the station's two million weekly listeners are over 65.
Guidance for producers warned against featuring 'know-it-alls' and said that ideally, presenters should not be experts but 'should feel like they are sharing their experience, offering their enthusiasms and recommendations but not lecturing'.
All the comedians' shows have been produced by former Radio 4 commissioning editor Caroline Raphael through her company Dora Productions.
Published: 17 Jan 2020
Recent News
What do you think?