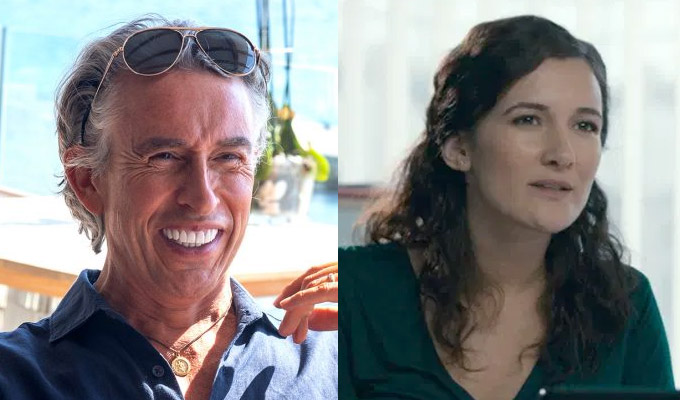 Steve Coogan and Sarah Solemani to star in #MeToo satire
Steve Coogan and Sarah Solemani are to star in a new Channel 4 satire about sexual politics inspired by the #MeToo movement in Hollywood.
In the six-part series, Chivalry, Coogan plays a 'ladies' man' film producer called Cameron who has just been dumped by yet another twentysomething girlfriend (via WhatsApp) and is facing a feminist backlash over his latest thriller.
Him and Her star Solemani plays a liberal director who is promised funding for her pet project if she helps him reshoot the sexist blockbuster to make it less toxic and salvage his reputation.
Channel 4 says the satire about 'the complex state of contemporary sexual politics' will ask: 'How fluid are our politics and how political are our fluids? Can romance blossom – not in spite of #MeToo, but because of it?'
Solemani said: 'Chivalry was born through a series of fiery debates with my comedy hero and renowned feminist, Steve Coogan. I am thrilled to be working with him.'
Coogan – who played a sleazy retail boss in Michael Winterbottom's recent film Greed – added: 'I am delighted to be working with the very funny, clever Sarah Solemani in the landscape of what in less enlightened times was called "the battle of the sexes".
'Chivalry is more of a painfully honest, funny fencing match. We will attack, riposte, lunge, parry and counter-parry and perhaps, when the bout is over, take off our masks revealing our true selves."
The show was commissioned by Channel 4's head of drama, Caroline Hollick, whi said: 'I'm so pleased to be able to bring the combined creative brilliance of Sarah Solemani and Steve Coogan to Channel 4. In this era of #MeToo and complex gender politics, Chivalry feels the perfect way to explore this pertinent issue with a sense of fun, a razor-sharp wit and with romance at its heart.'
Coogan's production company, Baby Cow, will make the series. Its chief executive, Christine Langan, said Chivalry offered 'a refreshing take on contemporary sexual politics with a liberating, modern spin on romance'
Published: 13 Jan 2020
Recent News
What do you think?