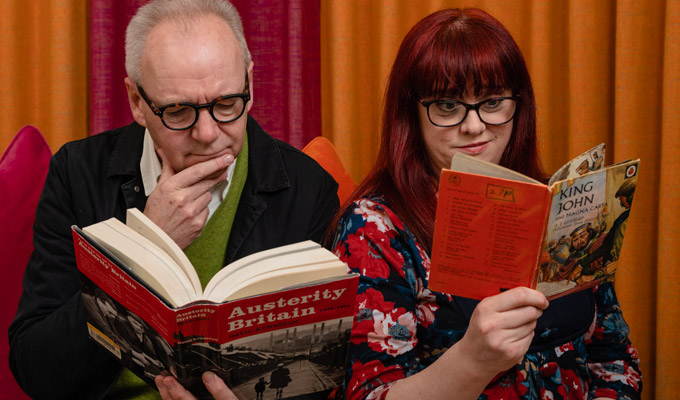 They're past learning
Pick of the week's comedy on demand...
Medical Police
This manically over-the-top spoof medical drama/action series hybrid combines daft wordplay, physical high-jinks and a subversion of both its source genres in a spirited, fast-paced throw-everything-into-the-mix comedy of big-premise silliness.
New to Netflix yesterday, the parody is a continuation of the Adult Swim series Childrens Hospital – though no prior knowledge is required.
My First Gig
In this new podcast, Irish stand-up Duane Doogan sits down with fellow comedians to discuss how they got started in the business.
In episode one, James Acaster tells how a car crash led him to where he is today, while future episode will feature Reginald D Hunter, Seann Walsh, Ardal O'Hanlon, Kiri Pritchard-McLean, Catherine Bohart, and Stuart Goldsmith.
Subscribe here
We Are History
This new podcast from stand-up Angela Barnes and comedy writer and author John O'Farrell offers a 'less-than-serious' look at history. If you like the BBC Sounds podcast You're Dead To Me, this is likely to be up your Roman road, too.
The first weekly episode launched this week, covering the 1963 Profumo affair, which is timely given the current BBC dramatisation of The Trial of Christine Keeler . Future episodes will cover the likes of cult of nudism in communist East Germany, the Opium War of 1839, Vlad the Impaler, the 1871 siege of Paris and Britain's 'very polite' invasion of Iceland in 1940
'We are not academics or qualified historians,' said Barnes; 'we are just a couple of history nerds researching and discussing subjects that interest or maybe amuse us. We read the books so you don't have to.
'Plus, we were concerned about the desperate shortage of podcasts, and wanted to do our bit to help'.
She came up with the idea of the podcast after listening to the audiobook of O'Farrell's best-selling book An Utterly Impartial History of Britain and got t in touch to suggest they work together.
We Are History is released via Acast and can be downloaded via all the usual podcast platforms.
The Scotts
Burnistoun's Iain Connell and Robert Florence have created this new sitcom for BBC Scotland, shot – like Modern Family – as a fake documentary. It revolves around the titular family, primarily brothers Henry and Vincent – who have a love/hate relationship – plus Colette, a sister with a grudge.
It aired north of the border last night, but the critics have not been kind. With The Herald in Glasgow slamming the characters as 'quarrelsome, foul-mouthed, walking cliches who veer from being unbelievably thick to implausibly eloquent, sometimes in the same sentence'.
Judge for yourself on on iPlayer
Published: 11 Jan 2020
What do you think?