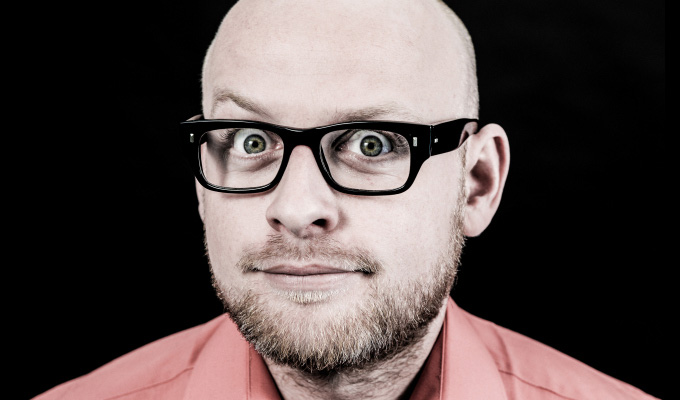 The best in the (North) West
Winners have been announced for the second annual North West Comedy Awards, with Dan Nightingale scooping two of them.
He was named best act an best compere, while Liverpool's Hot Water comedy club scooped three gongs.
The accolades were handed out at the Frog and Bucket comedy Club Manchester last night.
The venue organised the awards with agents A Rush Of Laughter – who collected a couple of the titles between them. Nominations and winners were voted for by the public
The winners are
Legend award: Agraman of The Buzz club
Best Act: Dan Nightingale (pictured)
Nominees: Adam Rowe, Harriet Dyer, Simon Lomas
Best Compere: Dan Nightingale
Nominees: Danny McLoughlin, Freddy Quinne, Paul Smith
Alternative Act: Harriet Dyer
Nominees: Delightful Sausage, Keith Carter as Nige, Tom Binns as Ivan Brackenbury
Breakthrough Act: Hannah Platt
Nominees: Chris Kehoe, David Bawden, Tony Wright
Best Comedy Club: Hot Water Comedy Club
Nominees: The Comedy Station, The Frog & Bucket, XS Malarkey
Best Small Comedy Club: Giggle Shack
Nominees: Barking Tales, New Comedians @ The Comedy Store, Off The Rails Saddleworth
Best Promoter: A Rush Of Laughter
Nominees: Colin Havey, Peter Vincent (Manfords Comedy Club), Rob Riley
Venue Of The Year: Hot Water Comedy Club
Nominees: The Comedy Store, The Frog & Bucket, The Lowry
TV/Radio Act Of The Year: Tez Ilyas
Nominees: Johnny Vegas, Kiri Pritchard-McLean, Phil Ellis

Best Tour/Solo Show: Gary Delaney - Gagsters Paradise
Nominees: The Delightful Sausage - Ginsters Paradise, Harriet Dyer - The Dinosaur Show, Phil Ellis - Au Revoir
Best Podcast: Alex Boardman & Chris Kehoe - Mondeo Law
Nominees: Dan Nightingale - Hack Radio, Eddie Hoo & Dave Longley - Arguing For The Sake Of Arguing, Harriet Dyer - Don't Worry (Bi Polar) Happy
Social Media Award: Hot Water and its regular compere Paul Smith
Nominees: Adam Staunton, Danny Sutcliffe, Sam Avery - Learner Parent
Best Open Mic: Beat The Frog
Nominees: The Comedy Balloon, Gleeson's Massive Gong, New Stuff At The Store
Published: 9 Jan 2020
What do you think?