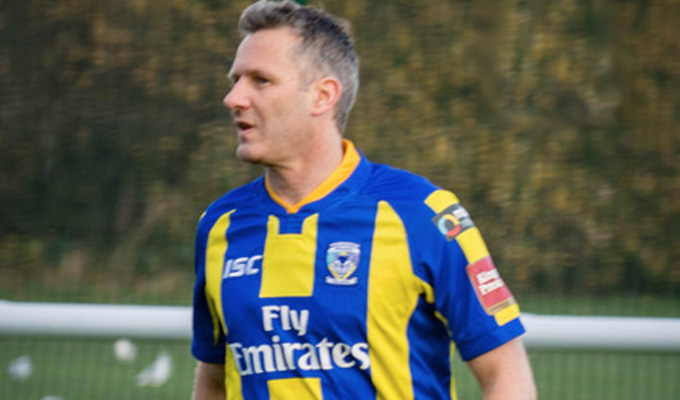 Adam Hills makes rugby documentary
Adam Hills has made a Channel 4 documentary about his attempts to live out a boyhood dream to play competitive rugby league.
The documentary, Take His Legs, follows the comedian and the team he captains, Warrington Wolves, head to his native Australia to take on the South Sydney Rabbitohs, half-owned by Hollywood star Russell Crowe.
Their clash in August 2018 was the first-ever international club challenge in the Physical Disability Rugby League, a sport which the one-footed Last Leg host has been instrumental in popularising in the UK.
Hills said: 'Playing Physical Disability Rugby League has been one of the greatest adventures of my life. I'm so glad we brought a camera with us, because it took me to places I never expected. Like Wakefield. More than that though, it has shown me the power that sport has to change lives.'
Channel 4 says the hour-long film – which will air at 11.30pm on December 13 – also deals with mental health, PTSD, and the impact of sport on the emotional well-being of a team.
Fozia Khan, who ordered the film for Channel 4 said: 'It's been an absolute joy to commission this inspiring and thought provoking film. The story goes beyond the sports field into the lives of these incredible men to show the highs and lows of achieving their life's dream. It's very funny as well.'
Hills, who was born without a right foot, has often spoken of his love for rugby league, saying he was drawn to 'the pride in the sport - in the actual sport. You talk to someone who loves rugby league and they are *passionate* about rugby league. They'll swear til they die it's the best sport on the planet.'
Here he is talking about the impact of the sport earlier this year – and demonstrating his skills on The Last Leg in 2015:
Take His Legs production credits
Production company: Noah Media Group
Produced by: Pete Thomas, John McKenna
Directed by: Pete Thomas, Torquil Jones
Executive producers: Adam Hills, Barry Smith, Jonathan Smith, Joe Norris
Commissioning editor for Channel 4: Fozia Khan
Published: 18 Nov 2019
What do you think?