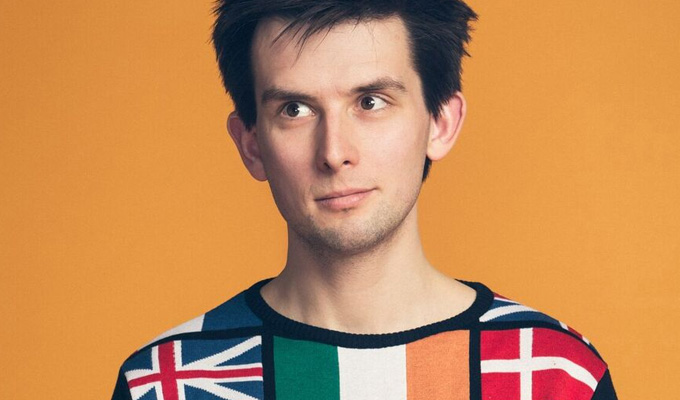 Finding laughs in Brexit
Kieran Hodgson has made a Brexit comedy for Channel 4, Chortle can reveal.
The comic wrote and stars in How Europe Stole My Mum, with Liza Tarbuck playing his mother and Harry Enfield as his father.
Shot this summer, the hour-long comedy promises to give Hodgson's take on the UK's relationship with our continental neighbours, with the comedian also playing various politicians.
He previously explored the subject in his 2018 stand-up show 75, which looked back at the 1975 European referendum and incorporated a fictionalised argument between the Remain-voting comic and his Leave-supporting mother.
The show, which also played the Soho Theatre, won the comic his third Edinburgh Comedy Award nomination
How Europe Stole My Mum is made by Guilty Party Pictures, which previously worked with Hodgson on his 2018 Channel 4 pilot, God's Own County, set on a scouting trip in the comic's native Yorkshire.
The company, run by comedy actors Simon Bird and Jonny Sweet with TV Burp producer Spencer Millman, also made the spoof chat show pilot, The Mr Swallow Show, for Channel 4 earlier this year. Hodgson appeared as the hapless Jonathan alongside Nick Mohammed as his monstrous alter-ego.
Tarbuck and Hodgson have played mother and son before, as the long-suffering Lady Scratcherd and her dissolute offspring Louis in The Barchester Chronicles, Radio 4's 2014 adaptation of Anthony Trollope's work.
Two Doors Down star Hodgson also had a guest role on the first episode of BBC Two's Shakespeare sitcom Upstart Crow, in which Tarbuck stars with David Mitchell as The Bard's wife Anne Hathaway.
'Europe cuts straight across our normal, political line in this country. It still does today' he told the Daily Telegraph earlier this year.
'I'm in two minds about the necessity and wisdom of the referendum in 2016. The very act of holding it seems not quite compatible with our normal democratic system, but at the same time I also think it was a question a generation had the right to be asked.
'Our European role is a question that will come every generation, and it is important for a country to have the opportunity to define itself – and refine itself when things change.'
The comic also filmed the role of Dr Moorhouse in the forthcoming Victorian crime drama Miss Scarlet & The Duke this summer, which will air on UKTV's Alibi channel.
- by Jay Richardson
Published: 15 Oct 2019
What do you think?