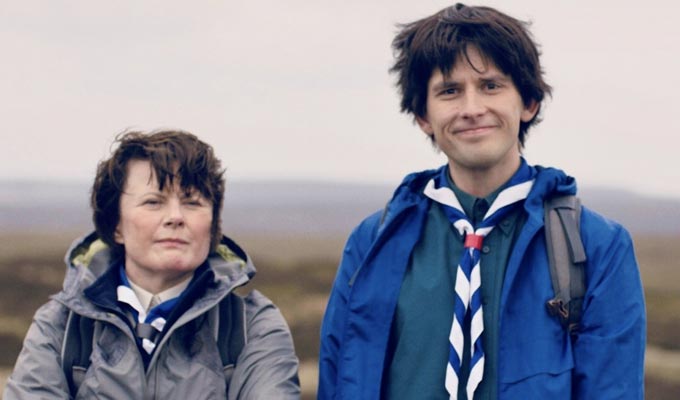 Kieran Hodgson shoots a Channel 4 pilot
Kieran Hodgson has made a Channel 4 pilot, Chortle can reveal.
A 'love-letter' to the comic's native Yorkshire, God's Own County is the channel's first full-length Blap and co-stars W1A's Monica Dolan and Horrible Histories' Jim Howick.
Hodgson writes and stars in the pilot as a 14-year-old version of himself, attempting to hike Black Hill, West Yorkshire's highest point.
When the young Kieran has to choose between loyalty to terrifying scout leader Jackie (Dolan), or cool new leader Jamie (Howick), a simple walk quickly becomes a lesson in dedication, danger and discontinued chocolate bars.
The Blap is directed by Jim Archer, whose credits include helming Mae Martin's Channel 4 pilot Us and Kiri Pritchard-McLean's Halloween short for Sky, I've Got Your Number.
Hodgson, who is currently performing the acclaimed show '75 at the Edinburgh Fringe, said: 'We had three fantastic days striding about on the Moors and I was overjoyed to do so in the company of the amazing Monica Dolan and Jim Howick. The Blap is a simple story, of a teenage version of me going up the biggest moor near my house, Black Hill.'
As Chortle revealed in June, the comic will also be shooting Nick Mohammed's Channel 4 sitcom pilot shortly, playing a hapless runner on a Mr Swallow chat show. Hodgson added that his Blap was 'a small but significant rite of passage that gives me the chance, as the narrator, to talk a bit about the role the Moors play in Yorkshire life and to stare out at various bleak horizons like I'm in a Brontë adaptation.
'With any luck, future episodes would explore various aspects of life in Yorkshire, fuelling Yorkshire people's justified perception that they live in the best place on Earth."
Executive producers are Simon Bird and Jonny Sweet for their production company Guilty Party Pictures
Spencer Millman said: 'Spending the week filming with Kieran where he grew up was an absolute joy. His affection for his home county is abundantly clear in his writing and vision in this warm, wise and hilarious Blap - hopefully the first of many brilliantly funny Yorkshire tales.'
God's Own County will be available to watch on All4 tomorrow and on YouTube.
Channel 4 has commissioned seven series from Blaps, including Chewing Gum by Michaela Coel, Roisin Conaty's Gameface and Jamie Demetriou's Stath Lets Flats.
- by Jay Richardson
Published: 19 Aug 2018
Recent News
What do you think?