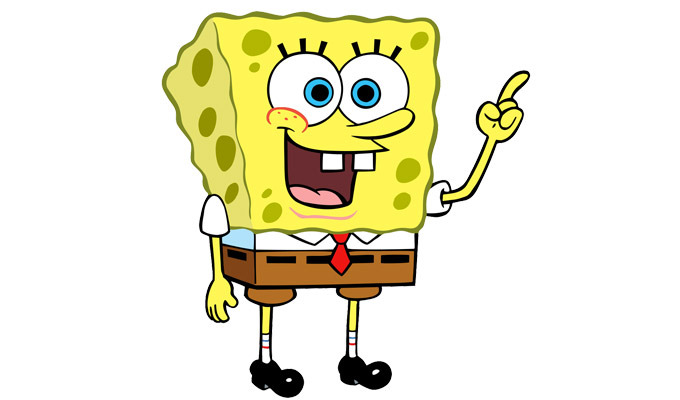 Spongebob 'is an apologist for military colonisation'
You might think Spongebob Squarepants as a friendly sea sponge who lives in a pineapple beneath the sea and loves blowing bubbles.
But, in fact, he's an apologist for colonialism, desensitising children to the military violence of occupation and the sexualisation of indigenous women.
That's the view of anthropology professor Holly M Barker from the University Of Washington who has written an academic paper suggesting a darker motive behind the 20-year-old kids' cartoon.
She says she was prompted to write her paper following the death of Spongebob creator Stephen Hillenburg last year, saying: 'Missing from the obituaries and tributes, however, was any discussion about the normalisation of colonial and military violence engendered through his cartoon depiction of Bikini Bottom.'
Prof Barker believes Spongebob's fictional homeland is a reference to the real-life Bikini Atoll in the Marshall Islands in the Pacific Ocean, which was taken over by the US military in the 1940s for nuclear testing, displacing the 167 people who lived there.
She wrote: 'The cartoon desensitises viewer to the violence of settler colonialism, normalises and erases the displacement fo the Bikinian people from their ancestral land and whitewashes US military rampages on the islands.
'It renders a particularly pernicious harm on the Marshallese women, who are frequently both sexualised and erased through the appropriation of their homeland.'
Prof Barker also believes that as an American character allowed to inhabit an area that natives had no choice but to leave, SpongeBob showed his privilege of 'not caring about the detonation of nuclear bombs'.
And she says Spongebob's Hawaiian-style shirts, tikis and Easter Island heads are essentially cultural appropriation, which perpetuates stereotypes of the region.
'We should be uncomfortable with a hamburger-loving American community's occupation of Bikini's lagoon and the ways that it erodes every aspect of sovereignty,' she concludes.
Her report was published The Contemporary Pacific: A Journal Of Island Affairs.
Published: 13 Oct 2019
Recent News
What do you think?