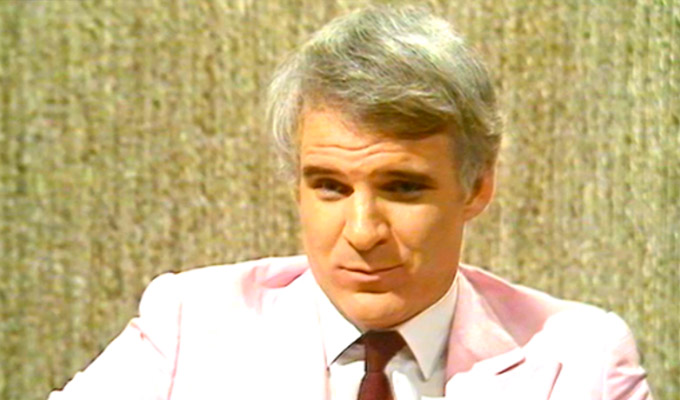 BBC releases some historic comedy moments
The BBC is making hundreds of clips from its archive available to watch on a new website.
More than 1,700 videos have been published including clips from the likes of Parkinson, Doctor Who, Blue Peter, Morecambe & Wise – as well as landmark moments in history
The launch coincides with the 50th anniversary of Nationwide, the early evening precursor to the One Show that featured quirky stories from around the UK between 1969 and 1983.
Peter Rippon, BBC Archive executive editor, says: 'The site is the beginning of a journey into the BBC's most cherished asset. Social history, and what it reveals about who we are, is proving especially popular, so we've created collections of hundreds of items that give a glimpse of what the archive contains.
'We are planning to open up the archive much more as the BBC prepares to mark its centenary in 2022. This is an important step on that journey.'
Here are some moments from comedy history that have been made available:
Life of Brian
Malcolm Muggeridge and the Bishop of Southwark discussed blasphemy with John Cleese and Michael Palin in this increasingly tense exchange from Friday Night, Saturday Morning
in 1979. Hosted by Tim Rice, it was later dramatised in the 2011 film Holy Flying Circus. Watch here.
Spike Milligan
The Goon went off-topic during an interview with Huw Wheldon in this interview from The Arts Show Monitor March 1962, allegedly talking about his new play The Bed-Sitting Room. Watch here.
Another clip from the Monitor, this one from 1959, in which film-maker Ken Russell's spent a day with the comedy genius. Watch here.
Peter Cook chats to David Dimbleby 1979 programme called Person to Person. He chats about his early career, annoying Dudley Moore and being the comic voice of his generation Watch here.
And here is Dudley Moore on Parkinson in 1980.
Billy Connolly on Parkinson
Here's the 1975 interview that propelled the Big Yin from a Glasgow hero to a mainstream comedy star. Watch here. And in 1975, Nationwide followed him on tour. Watch here.
Morecambe and Wise
Eric and Ernie faced some 'intelligent questions' on the pioneering TV discussion programme Late Night Line-Up. Watch here.
Boxing Day Comedy Greats
Denis Norden, Marty Feldman, Peter Sellers and Spike Milligan candidly enjoyed a Boxing Day lunch for the 1968 magazine show Braden's Week. Watch here.
Kenny Everett
In 1971, Kenny Everett tells Late Night Line-Up what he's been up to since the BBC fired him ('the buffoons!'). Watch here.
The pair discuss satire with Joan Bakewell in 1986. Watch here.
James Young
In 1973, Nationwide profiled the comedian Northern Ireland comedian James Young, who, in the midst of the Troubles, aims to make all of Ulster laugh.
Donald Trump and Dame Edna
There's only a bit of Barry Humphries' alter-ego in this clip, which is more fascinating for whom she was sitting next to on the Terry Wogan sofa. But it's interesting to see Trump suggests he might have a future political career, talking about going to Moscow, calling Mohammed Fayed a 'fabulous man', complaining about other countries 'taking advantage' of America and saying that all his proceeds from The Art Of The Deal would go to charity. (The Washington Post could find no evidence he ever did, should you need telling). Watch here.
Steve Martin
Steve Martin appears on Parkinson alongside Clive James while promoting The Jerk in 1980. Watch here.
Published: 10 Sep 2019
What do you think?