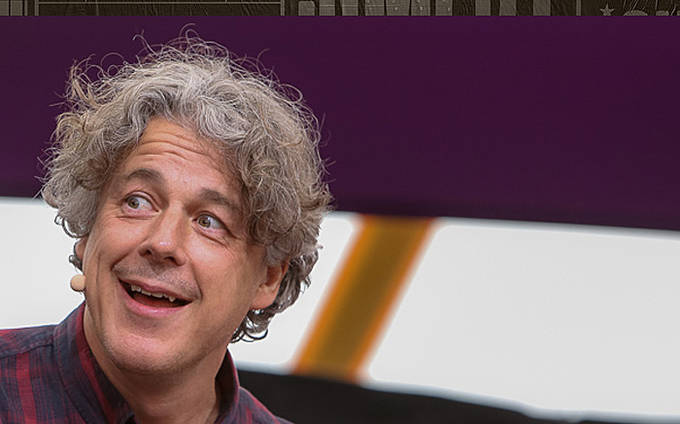 Brighton rocks... with laughter
The week's best live comedy.
Sunday June 16
RICHMOND: It's the second day of the: Big Funny Fest in Richmond Old Deer Park today, with a line-up kicking off at 3pm that includes Nish Kuma, Angelos Epithemiou, Gary Delaney and Lou Sanders. Let's hope the weather holds… Tickets are available here.
BRISTOL: Kumar's on early in Richmond, which gives him time to dash to the Hippodrome for a big fundraiser for Bristol city centre hospitals. Also on the bill are Jake Lambert, Kiri Pritchard-McLean,Laura Lexx and Mark Olver.
Monday June 17
LONDON: Another benefit as the Comedy Store plays host to Stand Up Against Alzheimer's, featuring Angela Barnes, Mark Steel, Omid Djalili, Rich Hall, and a whole lot more. Tickets here
LONDON: Haggard, phlegmy comedian Neil Hamburger drags his decaying carcass back to the Soho Theatre to unleash a fresh volley of bitter one-liners and thinly disguised misery for the next two weeks, with his new show No One Loves a Hater,
Wednesday June 19
BRIGHTON: From the people that brought you marquee-based festivals in Bristol and Greenwich comes the Brighton Comedy Garden, five nights of top-notch LOLs in Preston Park. Kicking things off in fine style are Alan Davies, Ed Byrne, Kiri Pritchard-McLean, Suzi Ruffell and Lolly Adefope. Every other gig's a winner, too.
Thursday June 20
LONDON: The latest instalment of Stand-up Under The Stars in the lovely courtyard of Battersea Arts Centre features John Kearns, Sarah Keyworth, Simon Munnery, Jessica Fostekew and sketch duo Moon, which is apt if you think about it.
Friday June 21
LONDON: Fresh from the nearly-washed-out Download Festival, former Saturday Night Live cast member and Metallica's support act, Jim Breuer, lands at the Leicester Square Theatre for a one-off gig. Tickets
NOTTINGHAM: Treats galore at the Glee this weekend with provocative Fin Taylor, droll George Rigden, and two Canadian storytellers: Glenn Wool and JJ Whitehead.
Published: 16 Jun 2019
Recent News
What do you think?