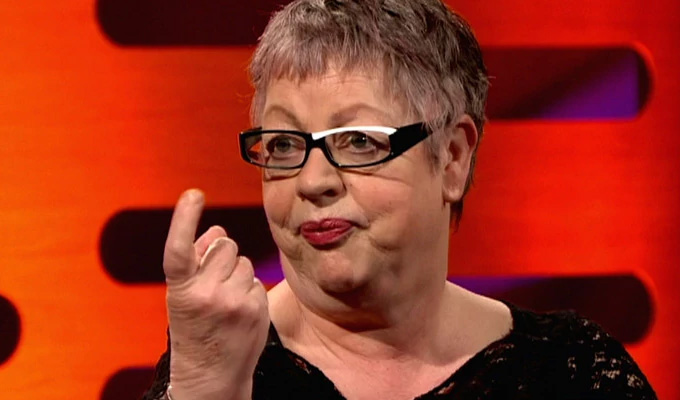 Jo Brand won't face police action over battery acid joke
Jo Brand will not face police action over her joke about throwing battery acid over politicians.
Scotland Yard had received complaints that her gag on Radio 4's Heresy amounted to an incitement to violence .
But the Metropolitan Polcice said: 'Police received an allegation of incitement to violence on 13 June, relating to comments made on a radio programme. The referral has been considered and no further police action will be taken in relation to this allegation.'
However the BBC dropped the gag from the on-demand service BBC Sounds, after initially defending it.
The broadcaster said: 'We regret any offence we have caused' over the gag – a day after saying the quip was 'not meant to be taken seriously'.
However it had certain;y been taken seriously by Brexit Party leader Nigel Farage and his supporters, who sought to make political capital out of the joke.
Even Theresa May asked the BBC to explain why the joke was considered 'appropriate content' for broadcast.
During the pre-recorded edition of Radio 4's Heresy, Brand was asked about the divisions being stoked over Brexit – and said: 'Certain unpleasant characters are being thrown to the fore, and they're very, very easy to hate.
Then she added: 'I'm kind of thinking, why bother with a milkshake when you could get some battery acid?
'That's just me, sorry, I'm not gonna do it, it's purely a fantasy, but I think milkshakes are pathetic, I honestly do. Sorry.'
Farage – who has perviously been doused in milkshake while on the campaign trail – was quick to condemn her.
He immediately tweeted: 'This is incitement of violence and the police need to act.'
In response, the show's host Victoria Coren Mitchell tweeted: 'Nigel! I'm genuinely disappointed; we don't agree on everything, but I would totally have had you down as a free speech man. Especially when it comes to jokes.'
But the gag was condemned by many, including Brendan Cox, the husband of murdered MP Jo Cox, who said violence and intimidation should not be normalised.
Farage doubled down on his initial criticism during his LBC radio show, today, saying: 'This sort of behaviour is completely and utterly disgusting.
'Could you imagine if I was to tell a story like that about somebody on the other side. The police would be knocking on my door within 10 minutes.'
And he added on Twitter: 'I am sick to death of overpaid left wing, so-called comedians who think their view is morally superior. can you imagine the reaction if I had said the same thing as Jo Brand?'
Reporters asked Brand about the chorus of calls demanding that the BBC sack her – and in reply she said: 'I'm not employed by the BBC, so how can they sack me?'
But speaking to an audience in Henley-on-Thames, the comedian later admitted it was probably was somewhat a crass and ill-judged joke that might upset people'.
In comments reported by The Sun, she added: 'I don't think it's a mistake. If you think it is I'm happy to accept that'. Female politicians and public figures are threatened day in, day out, with far worse things than battery acid . . . rape, murder and what have you. At least I'm here and trying to explain what I did. I don't think I have anyone to answer to.'
In its original response to the criticism, the broadcaster said: 'Heresy is a long-running comedy programme where, as the title implies and as our listeners know, panellists often say things which are deliberately provocative and go against societal norms but are not intended to be taken seriously.'
However in dropping the segment, the BBC said: 'We carefully considered the programme before broadcast. It was never intended to encourage or condone violence, and it does not do so, but we have noted the strong reaction to it. Comedy will always push boundaries and will continue to do so, but on this occasion we have decided to edit the programme. We regret any offence we have caused.'
Brand will be on Radio 4 next week fronting another episode of the scripted radio show VIP RIP.
Published: 14 Jun 2019
What do you think?