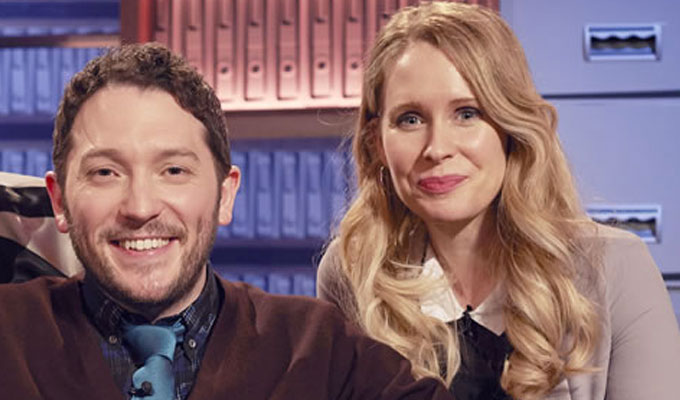 Jon Richardson and Lucy Beaumont to star in a sitcom about their married life
Comedians Jon Richardson and Lucy Beaumont are to star in a new sitcom based on their married life.
The Dave channel has ordered six 40-minute episodes of Meet The Richardsons, which Beaumont has written with Car Share's Tim Reid.
Richardson said: 'I am delighted that Dave have commissioned a new show for me and Lucy. I am less thrilled to have been followed around the house by my wife holding a pen and paper cataloguing every embarrassing moment or mispronunciation to use against me.
'I hope viewers will gain a real insight into the sniping and passive aggression that we enjoy on a daily basis and will come away feeling better about their own relationships.'
Beaumont added: 'It's so wonderful to be able to not only live together but now work together too, I hope it brings me closer to understanding my husband in a way that reading his Twitter direct messages has not.
'We've both found our marriage really hard so having a TV crew following us around for six weeks and being paid money to talk about Jon's bald spot and in a controlling nature is really going to help us."
The series – ordered following a successful pilot was shot in the autumn – is said to be based on 'exaggerated versions' of the comedians, surrounded by their celebrity friends and their Hebden Bridge neighbours.
According to Dave's parent company UKTV, Meet The Richardsons will show what their neighbours really think of them, the type of birthday party they should have for their daughter Elsie, caravan holidays and Jon's constant refusal to do or go to anything, much to Lucy's annoyance.
UKTV head of comedy entertainment Iain Coyle, who commissioned the show said: 'We've seen a glimpse into Lucy and Jon's home life in Jon Richardson: Ultimate Worrier, so getting full access was both irresistible and a little disturbing.
'Think Curb Your Enthusiasm meets One Foot in the Grave, with a dishwasher fetish, and you're about halfway there.'
Beaumont and Richardson, who wed in 2015, previously appeared together on the 2014 documentary Jon Richardson Grows Up as well as on Ultimate Worrier last year.
Meet the Richardsons will air in 2020, while Ultimate Worrier returns on Wednesday July 3 with guests including Russell Howard, Roisin Conaty, Lolly Adefope, Lou Sanders, Rob Beckett, Matt Forde, Josh Widdicombe, Rosie Jones, Darren Harriott, Richard Osman, Morgana Robinson, Jessie Cave, Angela Barnes and Jamali Maddix.
Meet The Richardsons Production Credits
Produced by: Second Act Production
Commissioned by: Iain Coyle, UKTV's head of comedy entertainment
Ordered by: Richard Watsham, UKTV's director of commissioning and Luke Hales, Dave channel director
Directed and produced by: Lee Hupfield and Eddie Stafford.
Published: 11 Jun 2019
Recent News
What do you think?