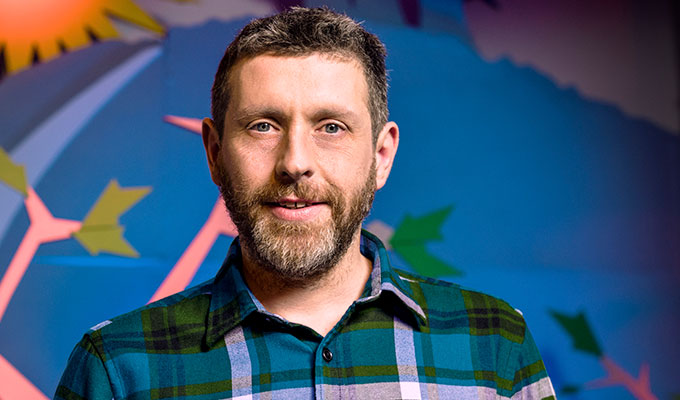 Exclusive: Dave Gorman is returning to Dave
Dave Gorman is returning to Dave with another PowerPoint show exploring the oddities of the modern world, Chortle can reveal.
Dave Gorman: Terms And Conditions Apply will reunite the comic with his trusty giant screen as he is joined by three comedy guests.
Together they will cast their eye over his latest discoveries, compete in mischievous games and generally try to unscramble the baffling morass of non-stop information that surrounds us in the internet age.
Eight hour-long episodes have been ordered to air later this year, two years after Gorman brought Modern Life Is Goodish to an end after five series. At its peak, that show attracted audiences of 1.5million.
Gorman said: 'I'm delighted to be getting the band back together and making another show for Dave. I'm still trying to navigate my way through the bombardment of non-stop information. But hopefully, this show will prove I'm far from alone in finding it all quite so baffling.'
Modern Life's Paul Wheeler directs and James Fidler again produces for Avalon.
The fast turnaround commission follows a successful, non-broadcast pilot last month that featured Marcus Brigstocke, Phil Wang and Sara Barron.
UKTV comedy chief Iain Coyle said: 'It is a matter of great personal pride that I am, again, getting to work with one of the most creative and unique voices in television and comedy.'
Dave channel director Luke Hales added: 'Well we did name a TV channel after him, so figured we should probably give him another show!
'But jokes aside, we're hugely pleased to be able to continue our relationship with Dave Gorman on this brand-new series.'
- by Jay Richardson
Dave Gorman: Terms and Conditions Apply Production Credits
Made by: Avalon
Executive producer: Jamie Isaacs
Series producer: James Fidler
Series director: Paul Wheeler
Ordered for E4 by: Iain Coyle, UKTV head of comedy and entertainment, and Luke Hales, Dave channel director
Published: 10 Jun 2019
Recent News
What do you think?