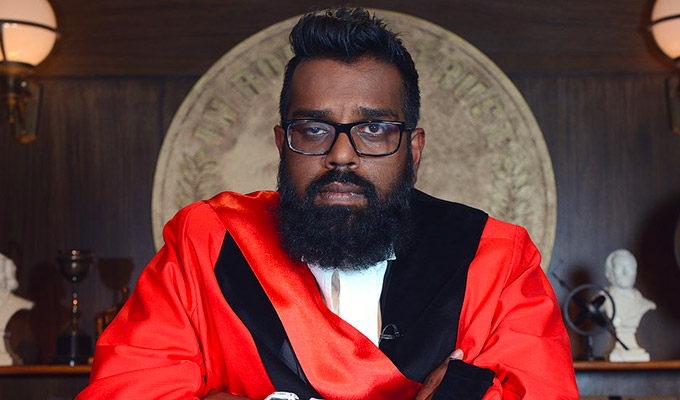 The Two Rommies
The comedy week ahead on TV and radio
Sunday May 19
THE RANGANATION: In this new series, Romesh Ranganathan assembles a focus group of 25 diverse characters - including his mum, of course - to take a humorous look at the week's biggest talking points. Other comedians and expert guests will also join him as he concentrates on the lighter end of the news spectrum away from Brexit and Trump. Ranganathan talks about the show here. BBC Two, 9pm
WHAT WE DO IN THE SHADOWS: That's followed by a double-bill of this imported US house-share mockumentary, in which all the roommates just happen to be vampires. Based on Taika Waititi and Jemaine Clement's 2014 horror comedy film of the same name, it stars Kayvan Novak as the self-appointed leader of the group, Nandor The Relentless, a great conqueror from the Ottoman Empire. British vampire Laszlo (Matt Berry) is a bit of dandy while Nadja (Natasia Demetriou) is a Romani seductress. They share a house with Guillermo (Harvey Guillén) Nandor's 'familiar', or servant, desperate to become a vampire, and Colin Robinson (Mark Proksch) an 'energy vampire' able to go out in the daytime. The series has just been renewed by America's FX channel, but this is where it all started. BBC Two, 9.40pm
PHIL WANG: WANGSPLAINING: In this week's Radio 4 stand-up special, the British-Malaysian comedian, former Taskmaster contestant and even more former Chortle Student Comedy Award winner, takes a look at the British Empire and asks: was British colonialism really one big crime? Radio 4, 7.15pm..
ACCIDENTAL DEATH OF AN ANARCHIST: In tribute to Jeremy Hardy, who died in February, Radio 4 Extra reruns his 1992 adaptation of Dario Fo's comic masterpiece. More reasons to listen are that it stars Adrian Edmondson, Jennifer Saunders and Jill Gascoine. The show was originally made for Radio 5 Live, when it broadcast such things. Radio 4 Extra, 8pm..
Monday May 20
M*A*S*H: When it comes to anniversaries everyone knows the big one is the 46th. Well, that's the excuse that TV channel True Entertainment is using for a week dedicated to the Korean war comedy, starting with the first ten episodes back-to-back from 7pm tonight. There are more episodes and documentaries about the show from 8pm every night until Friday. True Entertainment is available on Freeview 61, Sky 179, Freesat 142 and Virgin 189.
Wednesday May 22
JUDGE ROMESH: Hard-working Mr Ranganathan's second series of the week as his take on the Judge Judy/Judge Rinder format returns to Dave. As he settles various disputes, he's joined in the courtroom by bailiff Tom Davis and new clerk, Jessica Knappett. In the first of tonight's double bill the comic hears from an eccentric extra who is costing his Friend acting work, plus rappers Harvey and Romeo argue over copyright in their lyrics. Dave, 10pm.
JOHN FINNEMORE'S SOUVENIR PROGRAMME: Radio 4's popular sketch show returns, with the writer joined by his regular ensemble cast of Margaret Cabourn-Smith, Simon Kane, Lawry Lewin and Carrie Quinlan. In this first episode, John cooks a particularly good lasagne, and we hear a legendary swansong and a ghost story. Radio 4, 6.30pm..
URBAN MYTHS: This week's episode, written by Men Behaving Badly creator Simon Nye, is about how Paul McCartney dreamt the melody of Yesterday just as cracks began to form in his musical partnership with John Lennon. Sky Arts, 9pm
COMEDY CENTRAL LIVE: This week it's Stephen Bailey's turn at the half-hour stand-up special, in which talks about moving to London from Manchester, his spin class instructor and coming out to his family. Comedy Central 10.30pm
Thursday May 23
THE BIG BANG THEORY: It's finally over! (Apart from the endless reruns, of course) The hugely successful US sitcom bows out after 12 series with an hour-long finale that attracted 18million viewers in the US last week. The episode is followed by tribute show The Big Bang Theory Of Everything, in which fans including Jamie Laing, the stars of Derry Girls and Krishnan Guru-Murthy, wax lyrical about the comedy. E4 8pm
Friday May 24
HAVE I GOT NEWS FOR YOU: With guest host Victoria Coren Mitchell and panellists Jess Phillips MP and Ahir Shah, making his debut on the show. BBC One, 9pm
Published: 19 May 2019
What do you think?