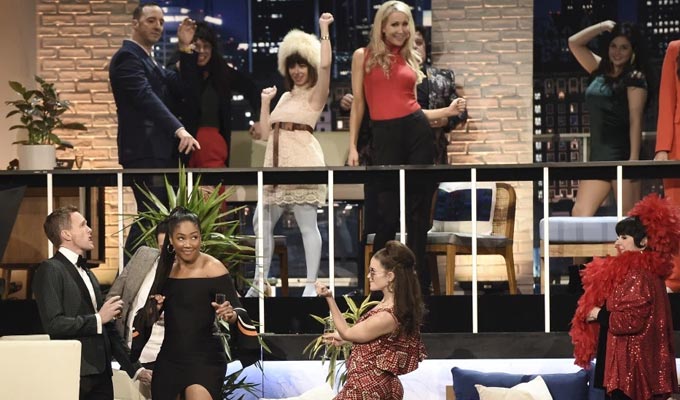 Who's Laugh-In now?
This week's comedy on demand.
Still Laugh-In: The Stars Celebrate
This Netflix celebration of 50 years, or thereabouts, of the groundbreaking Rowan & Martin's Laugh-In features the likes of Snoop Dogg, Billy Crystal, Tiffany Haddish and Neil Patrick Harris alongside original stars Lily Tomlin, Jo Anne Worley and Ruth Buzzi. But rather than being a talking-heads retrospective, it's a new live show, filmed in front of an audience at Hollywood's Dolby Theatre, with a mix of old clips and new sketches that are as loose as the original's were. Watch here.
The Last Laugh
This is always a great listen for comedy aficionados as Matt Willstein from The Daily Beast interviews various luminaries from the US scene in depth. This week's guest is Samantha Bee, who reveals that even though she was the longest-serving correspondent on The Daily Show, Comedy Central didn't even consider her as a possible successor to Jon Stewart when he stepped down four years ago. She also talks about why she's so disappointed with Joe Biden and what it felt like to have the President of the United States call for her to be fired.Listen on iTunes.
Luger
Jack Whitehall stars as an academic in conversation with his elderly grandfather's carers, played by Lolly Adefope and Ellie White in this darkly comic short from Whitehall's long-term collaborator Freddie Waters.It's done a few film festivals, now you can watch it here here
Mum
You may already have caught the return of Stefan Golaszewski's tender and bittersweet comedy on BBC Two earlier in the week. But the full final series dropped on iPlayer at the same time, should you be eager to find out whether Lesley Manville's Cathy ultimately finds happiness with Peter Mullan's Michael.
Published: 18 May 2019
What do you think?