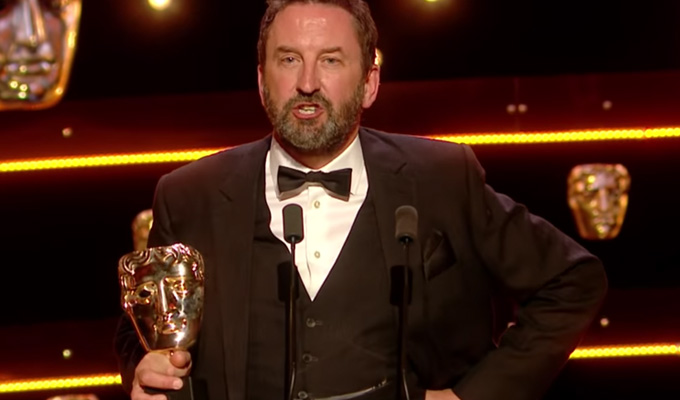 Lee Mack wins his first Bafta
Lee Mack won a Bafta for Would I Lie To You? last night over rival team captain – and fellow nominee – David Mitchell.
The Not Going Out creator won the accolade for best entertainment performance in the panel show.
However Would I Lie To You?, which is hosted by Rob Brydon lost out for best comedy entertainment programme to Sky One's A League of Their Own.
Accepting his first Bafta, Mack took a swipe at the sponsors, saying: 'I don't want to sound ungrateful but on the off-chance we do get to come back next year is there any chance you couldn't do it on the same day as the final Premier League game, that would be handy. Only kidding, I couldn't have watched it anyway because I've got Virgin Media and the reception's terrible.'
He added: 'We get nominated as a show for the last five or six years and it's really nice to be nominated – and we lose, every year, as a show and we're all bitterly disappointed every year, and earlier this evening we lost again. I only hope this goes some way, to Rob and David, that I've been singled out to feeling a little bit better about themselves.
'It's bad enough that I get paid more,but this is going to kill them.'
Also nominated were Ant & Dec and TV newcomer Rachel Parris for the Mash Report.
Elsewhere, best scripted comedy went to Julia Davis's Sky Atlantic show Sally4Ever – even though very few people will have seen it, with the programme attracting just 23,000 viewers when it was broadcast in October.
Steve Pemberton won best male performance in a comedy programme for his performance for Inside No 9 – for which his comedy partner Reece Shearsmith was not nominated.
He thanked everyone who made the show 'from the runners all the way down to the executive producers' and said he felt 'totally bereft without Reece Shearsmith standing next to me'.
'Everything we do on Inside No 9 we do together and that includes winning this award – so Reece, this is absolutely for the pair of us.'
He also praised his 'brilliant' fellow nominees – Alex MacQueen for Sally4Ever, Jamie Demetriou for Stath Lets Flats and Peter Mullan for Mum.
Jessica Hynes won best female performance in a comedy for her role in BBC Four's There She Goes.
Also nominated were: Daisy May Cooper for This Country, Julia Davis for Sally4Ever and Lesley Manville for Mum.
After watching the clips, Hynes said: 'Just sitting there watching all those incredible programmes makes me realise we really, really should get a telly.'
And she played tribute to her co-star David Tennant and the show's writers and producers, before thanking the Pye family – Shaun, Sarah, Frank and Jo.
Shaun Pye created the series based on his family experiences of having a daughter, Jo, with a chromosomal disorder.
Cooper wore a dress made from a black bin liner to the glitzy do. Her mum made it with rubbish strewn from the back, with the star saying she would donate the money she did not spend on a designer gown to charity.
My sister in a bin bag. At the baftas. Designed by our mum. The fookin nut bag ♥️ pic.twitter.com/WEJb7uBw7t

— Charlie Cooper (@charliecooper11) May 12, 2019
Published: 13 May 2019
Recent News
What do you think?