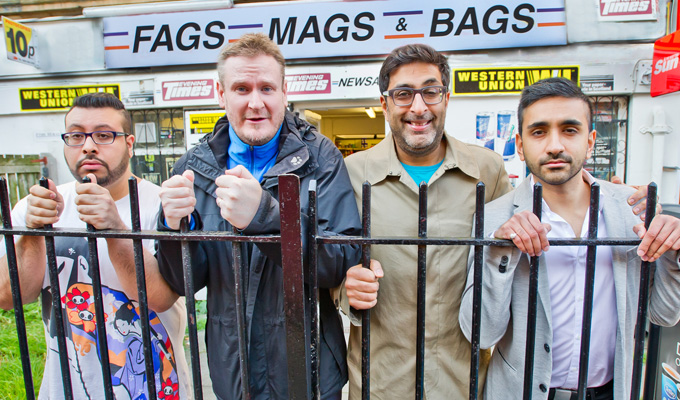 Ninth series for Fags, Mags And Bags
Radio 4 comedy Fags, Mags and Bags has been commissioned for a ninth series.

Co-writer and star Sanjeev Kohli revealed the news to Janice Forsyth on BBC Radio Scotland.

Kohli also said that he and the cast would be performing a live version of the sitcom at the Edinburgh Fringe, presented in the form of script readings. They previously presented a similar show at Oran Mor in Glasgow.

'We're going to to a live version of the show for the run of the festival as script readings,' he said. 'Wwe think people want to come and see the radio show, they don't want to see a theatrical production. So we'll do it with scripts in hand. It will be like an extended episode.'

'Maybe some TV bods will rock up and have a look. What would be nice if we could have that momentum and get some buzz about the show and then the right people could come and see it. It could work on the telly – it's only been 12 years!'

Kohli was speaking to promote his new topical show, Big Talk, which starts on the new BBC Scotland TV channel at 10pm tomorrow.

He described it as 'the
Last Leg for Scotland', adding: 'I think Adam Hills is a fantastic astute frontman – if I can emulate him that would be great.'

The comedian added that it wasn't 'a chat show as such but it will have guests to chew through the news'.

Lined up for the first episode, which is being taped tonight, are Karen Dunbar and Jay Lafferty – 'the cream of Scottish comedy' – and possibly Darren McGarvey, the rapper and social commentator known as Loki.
Published: 23 Apr 2019
What do you think?