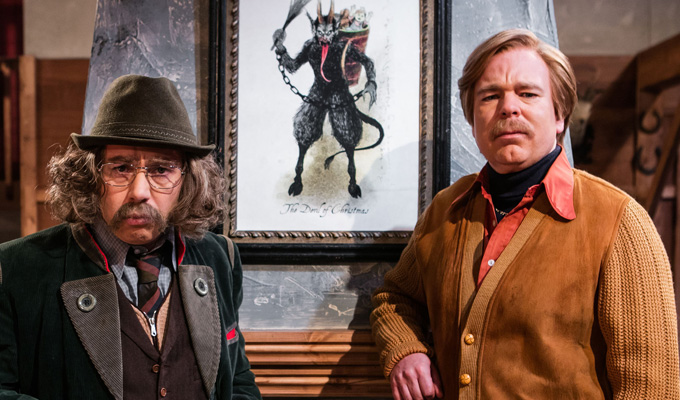 How Reece Shearsmith and Steve Pemberton once tried to revive Hammer House Of Horror
Inside No 9 duo Reece Shearsmith and Steve Pemberton made advanced plans to revive 1980s anthology series Hammer House Of Horror for TV – but the idea never came to fruition.
Shearsmith has revealed that they wrote two scripts for the proposed series, describing one of them as 'one of the most horrible things we've ever written'.
But speaking to Muriel Grey at a Guru Live event in Glasgow, the comic was vague about why the project didn't take off, citing only 'various reasons'.
The original show ran for13 hour-long episodes on ITV in 1980 and featured such stars as Peter Cushing, Denholm Elliott and Diana Dors as it covered various horror genres.
Shearsmith told Grey about their plan to revive it when they were discussing holding meetings with producers who didn't know their topics.
He said: 'We very nearly – don't know if I should say this – brought back Hammer House of Horror: Hammer, and me and Steve had lots of meetings about that and, er, it all fell apart through various reasons.
'We wrote two scripts, the pilot, which was really good, actually one of the most horrible things we've ever written, It was a sort of Monkey's Paw thing and I was telling them "it's a W.W. Jacobs thing"
'[They replied], "Sorry, who's that, what's that?"'
'Oh for fuck's sake! That's hard to let go. "You've not heard of that reference at all? You know Alfred Hitchcock?"'
He also revealed that when he and Pemberton appeared on The One Show to promote the live episode of Inside No.9, they had an ulterior motive.
They wanted to see if they could get the presenters to ask them if they believed in ghosts, so they could used the footage in Dead Line. But they kept the hosts in the dark about their plans so the exchange would appear natural.
The interview was transcribed in full on the Dodoswords blog.
Published: 11 Apr 2019
What do you think?