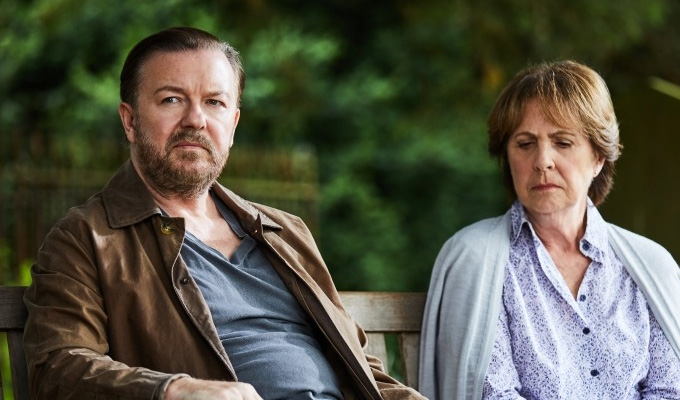 Ricky Gervais plans After Life series 2
Ricky Gervais has confirmed he is working on a second season of his acclaimed Netflix series After Life.
The comic wrote on Twitter that he had 'a spring in my step as a skip towards writing series 2'.
'Once again, I have to thank you from the bottom of my heart for all your amazing comments about #Afterlife. I've never had a reaction like it,' he wrote.
He has previously said that he already had ideas for a second run.
'I really would like to do a second series because I fell in love with the characters,' he told journalists. 'I've got an idea of where it can go. And the second series is always better, usually because you know the actors .'
The show revolves around suicidal newspaper reporter struggling in the aftermath of his wife's death, and is subsequently obnoxious and abusive to most people he meets.
But he turns a corner as his friends and family – and a sex worker played by Roisin Conaty – rally around.
The cast also includes Tom Basden, Tony Way, Diane Morgan, Mandeep Dhillon, Ashley Jensen, David Bradley, Kerry Godliman, Paul Kaye and Joe Wilkinson.
At the end of the first series, Gervais's character Tony is seen by his wife's graveside, saying: 'I'm gonna carry on saying and doing what I want and punishing the world – but I'm gonna punish people who deserve it. I'm gonna use my superpower for good.'
Tony also appeared on the verge of a new relationship with his dad's nurse, Emma (Jensen), following some tempestuous exchanges over the series.
Published: 20 Mar 2019
What do you think?