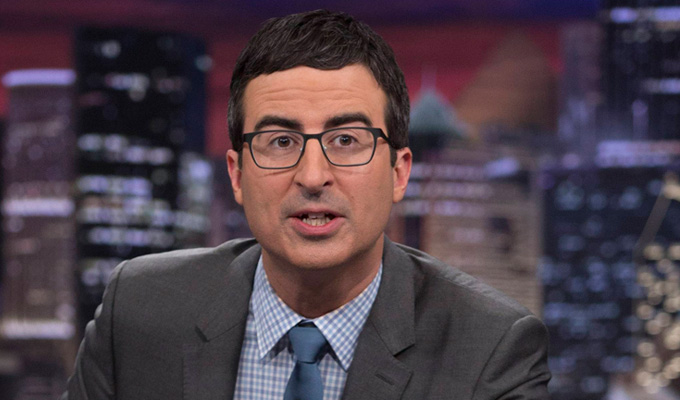 Go f*** yourself, Jay Leno!
John Oliver and Jay Leno have become embroiled in a public spat over whether topical jokes should be more 'civil'.
Last week, the former chat show king bemoaned the current state of late-night monologues, suggesting they were too politically skewed against Donald Trump, adding to division in America.
'Everyone has to know your politics… But when people see you are one-sided, it just makes it tough,' he said.
But he also suggested hosts had become more mean-spirited than in his day, adding: 'I'd just like to see a bit of civility come back to it, you know?'
But last night Oliver hit back on his HBO show Last Week Tonight, as he discussed the public shaming of Monica Lewinsky following her sexual encounters with President Bill Clinton when she was 22 years old.
He played a series of clips in which Leno joked on The Tonight Show about scientists assembling 'the largest collection of DNA in the world – not counting Monica Lewinsky's closet', sniggering about a headline saying 'Lewinsky gets back on her feet' and joking that it was so humid people's clothes were 'stickier than Monica Lewinsky's'.
Oliver also showed Leno posing with a fake Dr. Seuss-style book about Lewinsky, titled The Slut In The Hat.
'If that's what he means by civility, may I offer my new book: Oh the Places You Can Go Fuck Yourself, Jay Leno!' Oliver hit back. 'Look how civil I'm being.'
Oliver admitted that he was not blameless, having appeared in a Daily Show segment marking ten years since the scandal that was headlined '10 Suckin' Years'.
The British comic also spoke about Brexit, after even Brexiteer MP Steve Double MP called the deal 'a polished turd' in Parliament, echoing Boris Johnson's earlier comments, but admitting it was the best on offer.
Oliver said he wished a wormhole had opened up just before the EU referendum, so 'people could see that two years later, even supporters of the plan to leave would be saying, "All of our options are turds. Come join me in my turd menagerie, choose a turd that takes your fancy, so that we may ride that turd into a bold new era – an era of turds."'
Published: 18 Mar 2019
Recent News
What do you think?