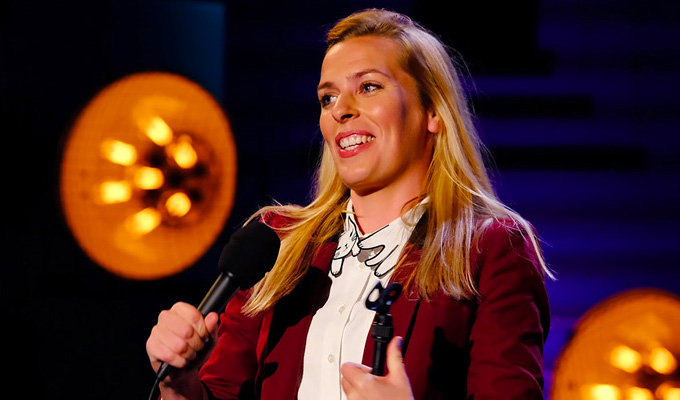 Sara Pascoe to star in new BBC travel show
Sara Pascoe is making a travel documentary and a stand-up special for the BBC, Chortle can reveal.
For the BBC Two travelogue – which has the working title Travelling Blind – the adventurous blind presenter Amar Latif took cautious traveller Pascoe across Turkey, from bustling Istanbul to the dramatic landscapes of Cappadocia, via the Black Sea.
The comedian is also recording two performances of her show Lads, Lads, Lads at the London Palladium on March 10, which will air on BBC Two later in the year.
Speaking on Chris Evans's Virgin Radio show, she explained the decision to make two recordings.
She said, 'I wanted to just do it once because it's a very, very big venue. But [the producers] said what if it's really shit?' She then hastily apologised for swearing.
Pascoe is also expected to further consolidate her relationship with the BBC by reprising her role as a regular guest on Frankie Boyle's New World Order when it returns for a third series this year, alongside Katherine Ryan and data journalist Mona Chalabi.
The hour-long film Travelling Blind is produced by Spun Gold, who made the comedy and variety show We Are Most Amused & Amazed for ITV, celebrating Prince Charles 70th birthday in November.
Latif is the founder of Traveleyes, a tour operator for blind as well as sighted travellers. He is a also regular television presenter who appeared on The Last Leg Down Under in 2016, played a blind busker in the Tamsin Greig drama Love Soup and appeared in the BBC Three sibling comedy sketch show It's Adam and Shelley.
Travelling Blind is a rare travel show starring a female comic, with several acts publicly protesting last month that they are consistently overlooked by television bosses to present such programmes.
Pascoe will next be seen on an episode of James Acaster and Josh Widdicombe's new panel show Hypothetical on Dave later this month. Her second book, Sex Power Money, exploring masculinity, sex education and porn, is published on August 29.
- by Jay Richardson
Published: 4 Feb 2019
What do you think?