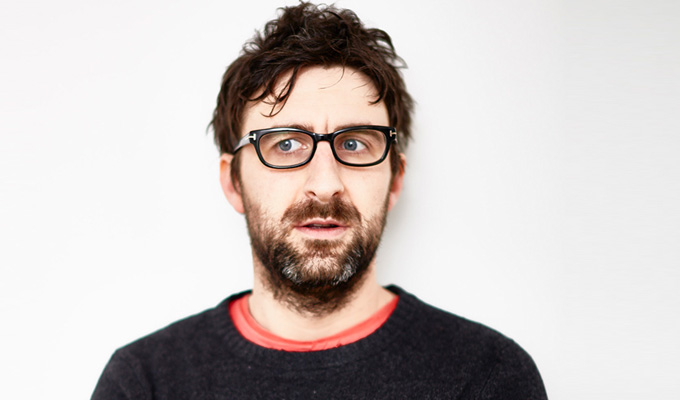 Mark Watson announces a marathon show – and marathon podcast series
Mark Watson has officially revealed plans for his next marathon comedy show.
And 'marathon' is the key word as the show will run for 26.2 hours – one for every mile of the endurance race – and is tied into a new Audible series he has made about the London Marathon.
The 13-part comedy show will feature Sara Pascoe, Derren Brown, Rufus Hound, Harry Enfield, Sofie Hagen, Desiree Burch, Angela Barnes, Adam Kay, David Baddiel, Lolly Adefope and Ray Winstone. It will be released as a podcast to Audible subscribers starting on February 28, with each episode featuring a different sketch.
To mark the launch, Watson is hosting his latest lengthy show at The Pleasance in North London from 9.48pm on February 27 to midnight the following day.
He said: '26.2 miles is a pretty ambitious distance to run, and 26.2 hours is definitely a pretty ambitious amount of time to spend on stage. But everyone knows I'm an ambitious guy, and by that I mean: stupid.'
Watson is also looking for people - including fellow comics – to take part in their own challenges to take up the full 26.2 hours, as Chortle reported when we first revealed the project last month.
He said: 'Once the show is sold out, there are still some public tickets up for grabs for the best challenge ideas, and comedians are always welcome if they can manage the entire 26 hours doing something funny or odd.'
The show will be in aid of Dementia Revolution, a charity which is also being supported by a team of EastEnders actors running in the London Marathon because of their friendship with former co-star Barbara Windsor, who suffers from the condition.
Adam Woodyatt, Jake Wood, Emma Barton, Natalie Cassidy, Kellie Shirley, Tanya Franks, Jamie Borthwick and Jane Slaughter will all be trying to raise £100,000 from taking part in the run on April 28.
Watson himself ran the Berlin Marathon in September, finishing in 4hrs 28mins.
His first long show, which lasted 24 hours, was staged at the Edinburgh Fringe in 2004. The following year he performed a 2,005-minute show and in 2006 he performed a 36-hour show, his longest yet. He returend to the format for a 27-hour gig in aid of Comic Relief in 2015.
Previous challenges undertaken as part of the shows have included the world's longest ever hug, watching Beverly Hills Chihuahua on a loop for an entire day, and writing 'I am an idiot' over and over again.
While celebrity stunts at the events have included Gillian Anderson shaving someone's back using hummus as shaving cream, and Russell Brand and Miranda Hart driving an ice-cream van into the venue.
Tickets for the gig are now on sale now here.
Anyone interested in doing a challenge should email siren@impatientproductionsuk.com.
Published: 16 Jan 2019
Recent News
What do you think?