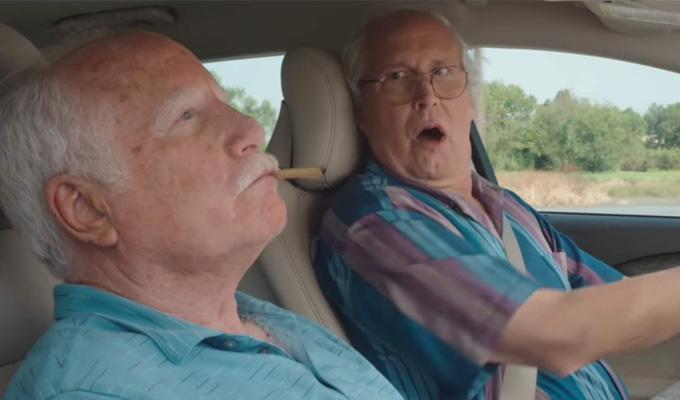 Netflix has The Last Laugh
This week's comedy on demand.
The Last Laugh
Released on Netflix yesterday, The Last Laugh stars Chevy Chase and Richard Dreyfus, and revolves around an ageing talent manager being reunited with a long-retired stand-up comedian.
In a twist from the expected casting, Dreyfus is the stand-up returning to the stage having giving up showbusiness 50 years ago to become a podiatrist.  Now he gets a last taste of the life he could have had, had he remained a comic.
However, the critics have not been kind to this film, with the Hollywood Reporter calling it 'an entire movie in which "desperate" is the default mode' and the Los Angeles Times saying it's an 'exceedingly mild affair' – even while praising Dreyfus's performance.
Roisin And Chiara: Back To Back
This cult-in-the-making double act won plaudits for their bonkers Edinburgh show last year. Now that Fringe show is available via comedy-on-demand service NextUp, which describes it as 'stream-of-consciousness, messy, uninhibited, art-house disco funk comedy' . It's certainly bonkers,unpredictable and full of energy, as our four-star review from the festival concluded. NextUp subscribers can watch here.
Drinking With Jesus
Stand-ups Dan Cardwell and Christian Talbot have this week launched this new podcast in which they discuss the latest events in their lives  in a pub… where the landlord just happens to claim he's Jesus Christ. In the first episode of the scripted series, they learn why Jesus is keeping himself hidden from the world, the new apostles, and the secretive cabal chasing him known as The Iscariots.  The series started with three episodes with new episodes now released every two weeks.
Laurel And Hardy On Tour
This 2006 radio documentary looks at the comedy duo's European tours from 1932 to 1954, the same subject as the acclaimed new film Stan & Ollie – no doubt the reason it's now available on BBC Sounds.
Porridge: The movie
The 1979 cinema version of the Ronnie Barker and Richard Beckinsale comedy aired on BBC Two over the new year, which means it's available on iPlayer for a couple more weeks. Detained at Her Majesty's pleasure, cellmates Fletcher and Godber become unwilling accomplices to an escape attempt in the script written by Dick Clement and Ian La Frenais - who also produced and directed. Fulton Mackay and Brian Wilde reprise their roles as warders Mackay and Barrowclough and the cast also includes Allo Allo Garden Kaye.
Published: 12 Jan 2019
What do you think?