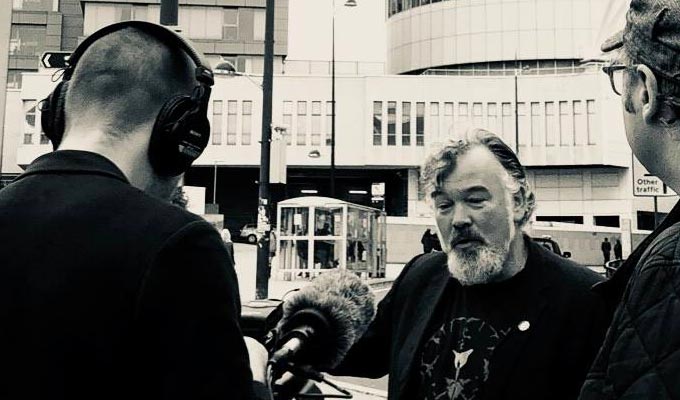 Stewart Lee films post-punk documentary
Stewart Lee has been secretly shooting a documentary about Birmingham post-punk band The Nightingales.
The comic has been working with Brass Eye and Toast of London director Michael Cumming on the film, King Rocker.
It focusses on frontman Robert Lloyd, who Lee describes as 'Britain's ultimate post-punk survivor', who has been 'buoyed by endless critical acclaim, but hampered by ongoing commercial indifference'.
Events planned for next year include a possible staging of Lloyd's never filmed sitcom Normal, which BBC head of comedy Geoffrey Perkins commissioned as a BBC Two pilot in 1995.
It was written by Lloyd, the late Steven Wells, the punk poet who wrote for On The Hour, and video director Nick Small.
Lee told Chortle: 'Perkins apparently gave the go-ahead for a pilot, rewrites pending, but the trio of writers fell out in the pub after the meeting where this was agreed.
'According to Rob, all the bits Perkins liked best were by Swells. We need to talk to those responsible, and their estates, but the idea would be to shoot a scene or two in the style of, and with the casting of, a 1995 BBC alterno-sitcom. There appears to be only one hard copy of the script, which I am currently guarding like a sacred text.
'The film is partly about other lives Rob could have had, alternate realities, one where he ends up winning Bafta.'
King Rocker will also features Frank Skinner, who briefly performed with Lloyd's earlier band The Prefects, before Lloyd took over. On the poster, he likens himself to the drummer who left the Beatles, musing: 'I don't know whether I'm their Pete Best, or they're mine.'
The makers are now seeking contributions to help get the film finished. More details are here.
In an odd coincidence, Lloyd now lives in the Shropshire market town of Wellington where Lee was born, although he only spent nine days there before being dispatched to an orphanage.
Lee has supported the Nightinhsales on tour, performing his 1980s stand-up routine as their warm-up.
Published: 20 Dec 2018
What do you think?