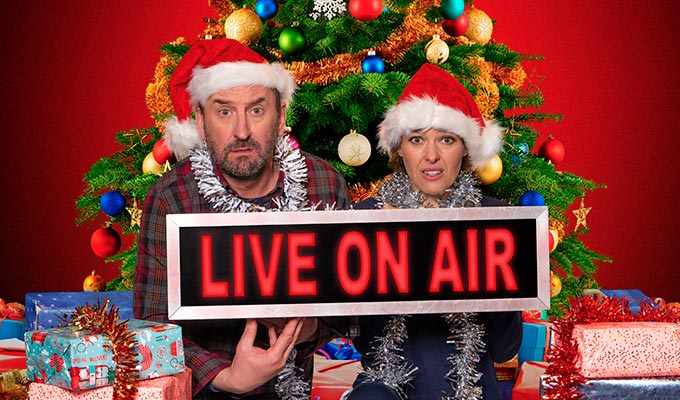 Not Going Out, going out live
The best of the week's comedy on TV and radio.
Monday December 17
ROMESH'S LOOK BACK TO THE FUTURE: Hosted by Romesh Ranganathan, this inventive twist on the panel show seems Danny Dyer, Katherine Ryan and Richard Osman joined by hologram versions of themselves from 12 months ago, when they made big predictions about 2018. Now they return to the studio to see if they got anything right. Sky One, 9pm
WIQ: A new quiz show hosted by Jo Brand in which two Women's Institute teams go head-to-head in rounds about general knowledge, popular culture and, erm, baking. Radio 4, 3pm
Tuesday December 18
THE UNDISCOVERED: The lives and careers of Peter Sellers, Kenneth Williams and Tony Hancock come under the microscope in three new revealing films, featuring previously unseen material and footage not aired in decades. Produced by Victor Lewis-Smith, these programmes about the troubled comedy greats - all of whom died too soon - are being stripped across tonight, tomorrow and Thursday at the same time. Sky Arts, 10pm
CELEBRITY PORTRAIT ARTIST OF THE YEAR: Jim Moir (aka Vic Reeves), Joe Lycett, Josie Long and Phill Jupitus put their talents to the test. Sky Arts, 8pm
IN THE STUDIO: The process of creating a new stand-up show is explored in this documentary following David Baddiel as he prepares for, and then debuts, a work-in-progress version of the new show about internet trolling. He then dissects it afterwards with his long-term radio producer Giles Edwards. Over the half-hour, Baddiel discusses what works as comedy, the mechanics of putting the show together, and why understanding trolls - and not just dismissing them - matters so much. World Service, 11.30am
Wednesday December 19
MICKY FLANAGAN'S THINKING ALOUD: CHRISTMAS: The comic returns for a special edition of his Sky 1 show, more than 18 months after the first series aired. In it he ponders why so many people get divorced at Christmas, visits a tinsel factory in Wales and finds out why people do unspeakable things at their office Christmas parties. And he meets the most inappropriate Father Christmas as Flanagan heads to Santa training school. Sky One, 9pm
RUSSELL HOWARD'S A GERT LUSH CHRISTMAS: This festive TV film marking Howard's acting debut gets another seasonal outing. In the comedy, which he co-wrote with Steve Williams, he plays Dan Colman, who introduces his new girlfriend to his rather eccentric family. Comedy Central, 10pm.
Friday December 21
NOT GOING OUT: Lee Mack's sitcom goes live, with a storyline based on trying to organise a festive variety show for their children's school, but with acts thin on the ground. Which gives an excuse to include scenes such as raw egg juggling and knife throwing to add to the tensions of the live broadcast. Mack has said: 'A live episode of a BBC One sitcom…what could possibly go wrong? Loads. Which, let's be honest, is why you sadists will be watching. So don't miss out on seeing me end my career.' BBC One, 9pm.
THE LAST LEG: Catastrophe's Sharon Horgan and Rob Delaney join Adam Hills and Co for a festive episode. Channel 4, 9pm.
TIME SPANNER: A new episode of the time-travelling adventure-come-love story narrated by the first dog in space, played by John Finnemore. Also starring Simon Kane as Martin Gaye, a man with the most powerful object in the universe stuck up his nose; David Mitchell as power-hungry reality TV star Daniel Kraken; Sally Phillips as an angel with very poor judgement; London Hughes as Gabbie Hayes, the world's most optimistic charity worker; and Jeremy Limb as Mister Mergatroid, a love-sick talking robot. Radio 4,11.30am
I'M SORRY I'LL READ THAT AGAIN.. AGAIN The classic radio comedy I'm Sorry, I'll Read That Again is revived as a four-part 'Best Of' with a new cast s but - pretty much - the same old gags. Re-recording the sketches that John Cleese, Graeme Garden, Bill Oddie, Tim Brooke-Taylor, David Hatch and Jo Kendall made famous from 1964 to 1973 are a new cast of Hannah Boydell, David Clarke, Barnaby Eaton-Jones, William KV Browne and Ben Perkins. Radio 4 Extra, 8am
Saturday December 22
GOODNESS GRACIOUS ME: 20 YEARS INNIT A retrospective to mark the landmark anniversary of the groundbreaking sketch show, one of the few to showcase Asian comedy talent - let alone go mainstream too. This look back features interviews with Goodness Gracious Me's stars and creators alongside other comedians who are fans of the series. BBC Two, 10.15pm
RIK MAYALL ON RADIO: A three-hour celebration, featuring programmes Mayall made for radio, including a Galton & Simpson play, plus interviews with friends and family, as well as the man himself. The archive is introduced by QI and Blackadder producer John Lloyd, who offers his personal memories, too. Radio 4 Extra, 9am
Published: 16 Dec 2018
What do you think?