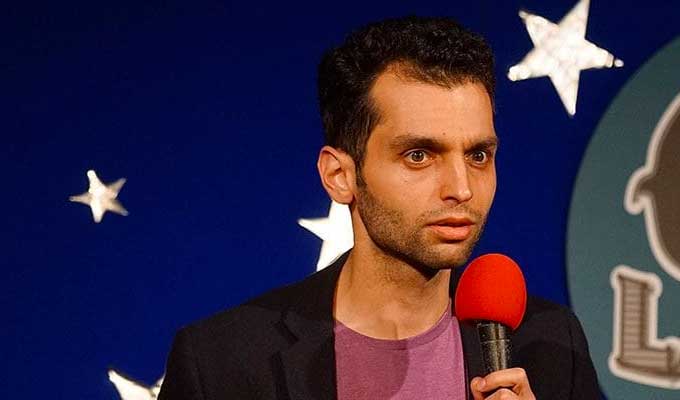 When the safe-space row comedian WAS prepared to watch what he said
The comedian who hit the headlines for refusing to sign a 'safe space' contract for a college gig DID agree to similar terms last year.
Chortle can reveal that in May 2017, Konstantin Kisin said he was happy to commit to 'no classism, racism, sexism, homophobia, transphobia or ableism' at a gig.
The list is very similar to the terms requested by the Unicef society in London's Soas college that Kisin so publicly rejected last week, leading to headlines around the world and an appearance alongside Piers Morgan on Good Morning Britain yesterday.
But he agreed to similar terms when he applied for a spot at London's Quantum Leopard night, which promoter James Ross described as a 'fluffy and inclusive night' that is 'proud to wear its political correctness on its sleeve'.
Every comic who asks for a slot specifically has to agree to the gig's ethos, which includes a ban on specific hot topics, including 'no rape as a punchline' and no picking on the audience as well as a general pledge not to 'kick down'.
Chortle has seen an email from Kisin from May last year agreeing to the terms, which included 'no classism, racism, sexism, homophobia, transphobia or ableism'.
Ross said: 'He applied for a short spot at Quantum Leopard on May 27, 2017, agreeing in writing to our ethos.
'I am not saying that he is necessarily a hypocrite for applying for a gig with a very clear content policy. But if he is not a hypocrite then he must have developed this principle at some point since then. I will not speculate on the reasons for his change in motivation.
'I may not agree with his change of mind, but I would defend to the death his right to make it.'
Kisin said he wasn't entirely sure what the ethos was at the time he agreed to it – and he email exchange is not explicit – but added: 'I am absolutely certain there was nothing about religion, atheism, respect or kindness in the rules. Had there been, I would not have agreed.'
He explained that he doesn't believe comedians should make bigoted gags, but said his protest was at being asked to be steer clear of 'anti-religion' and 'anti-atheism' material and the insistence he be 'kind and respectful'.
Russian-born Kisin told Chortle: 'I have said repeatedly and explicitly that I do not believe comedians should make bigoted jokes. I abhor racism, xenophobia and other forms of discrimination. As a dark-skinned, dark-haired immigrant of Jewish descent I have experienced plenty of it both in my home country and in Britain.'
In rejecting this year's gig at Soas, he told organisers: 'Comedy isn't about being "kind" and "respectful" and the only people who get to decide what comedians talk about on stage are... comedians. Comedy is supposed to push boundaries and challenge people and comedians should be free to mock religion, atheism and a whole load of other things.'
In the end, Ross rejected Kisin for the oversubscribed slot at Quantum Leopard in any case, so he did not perform at the gig.
Quantum Leopard was named best comedy night in London at this year's Chortle Awards., and Ross said his business model attracted a lot of repeat punters, 'many of whom have been put off mainstream comedy clubs by the homogeneity of acts and the often aggressive treatment of audiences'
Its current ethos is: 'a) No classism/racism/sexism/homophobia/transphobia/ableism/whorephobia etc. Basically no kicking down. Our crowd is lovely and wouldn't like it anyway; b) No rape as a punchline; c) No picking on the audience. Call and response? Fine. Laying into the front row individually? Not fine; d) No arguing with the ethos.'
The Unicef society at Soas asked Kisn to ensure the event was a 'safe space [for] joy, love and acceptance', and said: 'By signing this contract, you are agreeing to our no-tolerance policy with regards to racism, sexism, classism, ageism, homophobia, biphobia, transphobia, xenophobia, Islamophobia or anti-religion or anti-atheism. All topics must be respectful and kind. It does not mean that these topics cannot be discussed, but it must be in a respectful and non-abusive way.'
Published: 18 Dec 2018
What do you think?