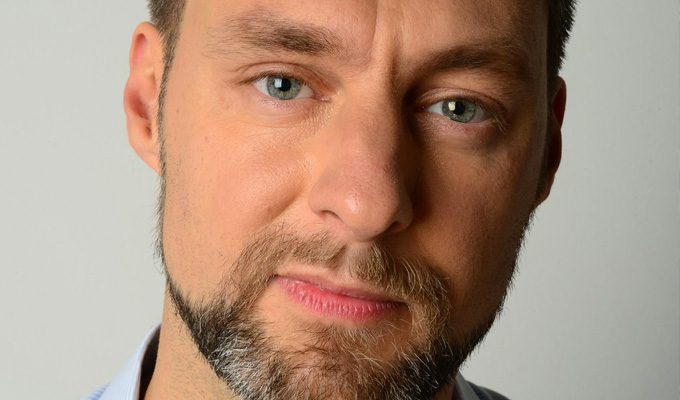 'I don't understand how it could be interpreted as transphobic'
Scottish stand-up Leo Kearse has defended himself against accusations of transphobia, after social media protests forced an Australian venue to cancel his show.
The reigning Scottish Comedian of the Year was due to perform at a gay club in Perth in January as part of the Fringe World festival. But the venue, The Court, has now revoked the booking.
Even though the show is called Right Wing Comedian and is advertised as taking 'a scalpel to male feminists, environmentalists, snowflakes [and] #MeToo', the venue said it had been unaware of the content until a backlash erupted online
Comments on Fringe World's Facebook page objected to a clip of Kearse performing at the Comedy Unleashed night at London's Backyard Comedy Club in London, in which he mused about male privilege and transitioning.
This has nothing to do with tomorrow's gig, but it's bloody funny.@comedyLeo on #Maleprivilege #MeToo #WhatMe? pic.twitter.com/RRuBVbRjvq

— Comedy Unleashed (@UnleashedComedy) November 12, 2018
In the routine, he jokes: 'It's hard being a man, that's why so many of us are transitioning…
'You've got to remember it's a lot harder for a man to transition than it is a woman.
'If a woman wants to transition to a man she just takes hormones, grows a beard and everyone goes, "look that man's got tits".
'If I want to transition I've got to take hormones, have surgery, get a new wardrobe, I've to find high heels that are size 15, I've got to remove all my body hair, I've got to learn how to walk in those heels, I've got to learn how to talk in a high-pitched voice and the end of all that effort and expense, people just point at me and go, "look that man's got tits".'
One Facebook user described Kearse as 'a transphobic arsewipe', adding that it was 'not cool, Fringe, booking someone who is antagonistic towards a large number of people who make up your artists, audiences and organisers, AND placing an openly transphobic person in a venue that is supposed to be a safe space for LGBTIQ+ people.
'There is nothing funny about transphobia, nothing funny for people who have to live with the very real issues that this guy thinks is fodder for his so-called comedy.'
Another stated: 'We're not trying to "censor" "free speech" or "artistic exoression" [sic], we're asking you not to promote and give platform to an individual whose performances hurt people of colour, LGBTQIA+ people and members of religious and cultural minorities … please recognise that comedy has a palpable effect on people's beliefs, actions and expressions of bigotry. Cancel this motherfcker [sic].'
Kearse is not contesting the club's decision. He told Chortle that: 'I understand that there's got to be a safe space for the LGBTQI+ community. I don't want to make a fuss and try and claim that space as my own, I think that would be unfair. That's their space, it's up to them.
'I didn't even think it would be an issue, otherwise I would have maybe raised it earlier. I've never had a problem performing in gay bars or anything before, or had a problem with this show to be honest.'
Ironically, he maintains that he conceived the routine as a response to transphobic stand-up.
'I actually wrote the material with a transgender woman that I was dating, this was back in May' he said. 'We were annoyed at some mainstream comedians like Ricky Gervais and Dave Chappelle who were doing openly transphobic and really quite nasty material.
'I wanted to write something that was about the trans experience that wasn't having a go at them, wasn't being mean to them. So that's what we wrote together. And she didn't obviously find it transphobic.
'I've never had anybody call it transphobic before. I don't really understand how it could be interpreted as transphobic, the joke's about the differing standards of beauty between men and women and why that makes people transitioning into a woman, it makes it harder for them, than a woman transitioning to be a man.
'I think somebody saw a male comedian talking about the transgender experience and assumed it was transphobic because that is kind of what you'd assume.'
He added that the show is 'a tongue-in-cheek look at what it means to be right-wing. Part of this is a criticism of traditional right-wing homophobia and a celebration of progress … The clip that people are complaining about is from the free speech comedy night Comedy Unleashed which is co-run by Andrew Doyle, an LGBTQI+ comedian.
'But it is their space. I totally understand why The Court cancelled it and I don't bear anyone any ill will. You see a white cisgender guy talking about this stuff, you're going to jump to conclusions because that's what history's taught us.'
Although the show has been removed from the Fringe World website, Kearse intends to find an alternative venue and is still listed as hosting The Great British Hate Off showcases at the Brass Monkey Hotel. What's more, he has pledged to retain the routine and 'write more, there's so much more.
'My show isn't really contentious. The only people I really have a go at are fat people and left-wing people. I'm a big believer in tolerance and diversity and I think that has to include diversity of opinions and tolerance of not everyone being the same.
'People can have completely valid opinions that might differ from yours. That's what tolerance and diversity should mean, as well as different sexual orientations, genders, all the rest of it.'
The Court responded to complaints on their social media with the statement: 'We do apologise if we have offended anyone. We do our bookings as large groups through a comedy company and we clearly missed this topic!'
Fringe World also told those who expressed concern about the show's content that it was outside their jurisdiction - as a production from an independent producer playing at an independent venue.
Kearse previously performed Right Wing Comedian at the Adelaide and Edinburgh Fringe Festivals without incident.
• Comic Sara Mason is being paid NOT to perform her S&M-themed show, A Beginners' Guide To Bondage, at the Leicester Comedy Festival, after the venue she was booked into pulled the plug. Owners of The Cosy Club agreed to pay her an undisclosed fee after its boss 'flatly refused to have me perform' after the show had been listed in the festival programme. Mason told blogger John Fleming that the venue chief was obviously horrified by the subject matter'. The venue has not responded to Chortle's request for comment.
- by Jay Richardson
Published: 19 Nov 2018
What do you think?