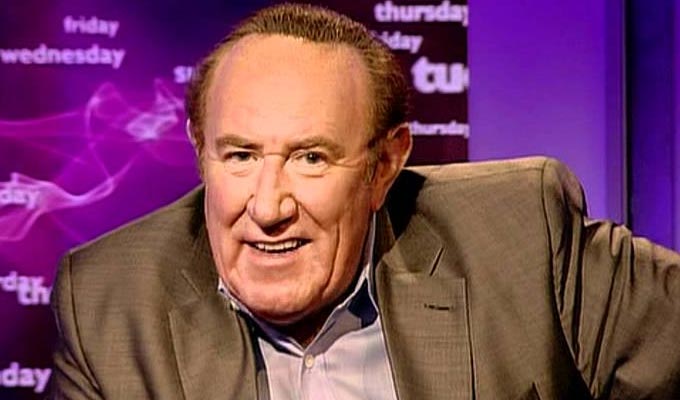 BBC comedy is 'unchallenged left-wing propaganda'
BBC political presenter Andrew Neil has complained that the corporation's comedy output is too left-wing.
He especially singled out BBC Two's The Mash Report as 'self satisfied, self adulatory, unchallenged left-wing propaganda'.
'When it comes to so called comedy the BBC has long given up on balance, on radio and TV,' he wrote on Twitter. 'Nobody seems to care. And I don't want Right-wing comedy, whatever that is. I'd just like comedy. Which is in really short supply. On TV and radio.'.
In a series of tweets the former Sunday Times editor complained that The Now Show on Radio 4 is 'contrived ideological commentary' and Have I Got News For You 'is on its last legs'.
But it was The Mash Report which most attracted Neil's ire.
'If you think Mash or the Now show is funny as opposed to contrived ideological commentary then we have a different sense of humour,' he complained. 'Jon Stewart in US was left wing but also intelligent and so funny. Loved it. Mash a pathetic immitation [sic]'
When one follower pointed out that Conservative-voting Geoff Norcott was a regular on the show, he hit back: 'For three minutes out of thirty minutes of self satisfied, self adulatory, unchallenged left wing propaganda. It's hardly balance. Could never happen on a politics show. Except this has become a politics show.'
Neil has been in trouble for his tweets this week after branding Carole Cadwalladr, the journalist who exposed the Cambridge Analytica data scandal, as the 'mad cat woman' and 'Karol Kodswallop' – echoing the language of controversial Brexit campaign funder Arron Banks.
Published: 14 Nov 2018
What do you think?