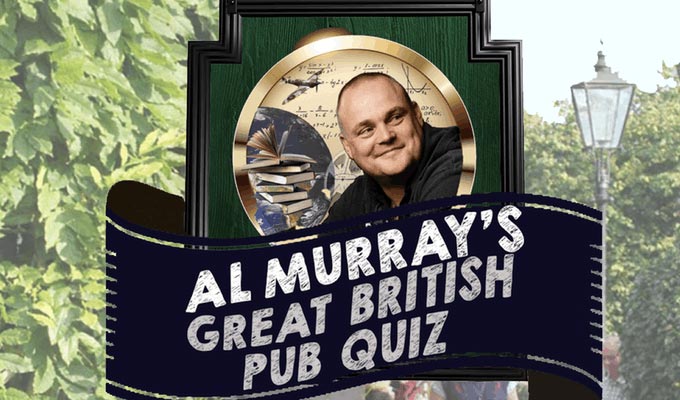 Question 1: Which broadcaster has bought Al Murray's pub quiz?
Freeview channel Quest has picked up Al Murray's Great British Pub Quiz for a 21-episode series – the channel's first move into comedy-based entertainment.
As Chortle reported last month, Murray will be joined by EastEnders and Extras star Shaun Williamson, who will play the 'resident barman' in the show
Musician Kirsty Newton – who has performed with Arthur Smith, Rich Hall, Phil Nichol, Jess Robinson, Mitch Benn and The Comedy Store Players – will be the pub pianist.
In each hour-long episode teams of three from pubs across the country will be pitted against each other, joined by a celebrity guest as they compete for a golden tankard and a cash prize
A pilot is being taped tonight at The Tabernacle in Notting Hill, West London, but Deadline reports that Quest has already picked up the show, to air next year.
Murray said: 'You're going to see some of the finest quizzing minds in the country duking it out as well as the most knowledgeable barman on the planet, Shaun Williamson, do his quizzing thing.'
And Simon Downing, head of Quest, added: 'With Al's legendary comedic talent, this is a fresh take on a game show that apes traditional pub quizzes and has great potential to excite Quest fans and engage new audiences.'
Al Murray's Pub Quiz will be the third trivia-based TV show the Pub Landlord creator has hosted. He previously fronted Fact Hunt for ITV in 2005 and Al Murray's Compete For The Meat for Dave in 2011.
Quest, a Discovery Networks channel, is primarily known for reality shows such as Salvage Hunters, Katie Price: My Crazy Life, and Wheeler-Dealers. But it has recently expanded its programming with a package of English Football League highlights every Saturday night.
Production credits
Made by: Avalon
Commissioned by: Simon Downing, head of Quest and Eurosport UK
Commissioning editor: Victoria Noble
Executive producers:Discovery's Jeremy Phillips and Avalon's Jamie Isaacs
Published: 7 Nov 2018
What do you think?