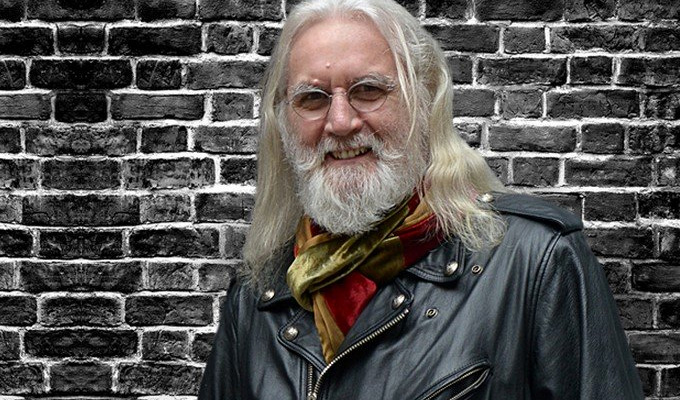 Billy Connolly: I want a grand funeral parade
Billy Connolly has said he would like a grand funeral procession through the streets of Glasgow when he dies.
He imagines his 'flower-strewn coffin being carried to a magnificent marquee in George Square' adding: 'I would like there to be a lot of gnashing of teeth and weeping children.'
The comedian says he has thought of being cremated and having his ashes 'scattered on Loch Lomond, with a horizontal mourning stone so that tourists and locals can have a cup of tea', or to be buried in a wicker casket so he can become part of the Scottish earth.
And the epitaph he wants on his gravestone is: 'Jesus Christ, is that the time already?'
But the planning is all very premature as his doctor has told him he'll live until 90, 15 years away.
'I wasn't expecting to live that long before I got Parkinson's,' he says.
The comic's diagnosis with the disease in 2012 forms a significant part of a new book, an extract from which was published in The Mail on Sunday today.
Among the other revelations are that
he discussed his Parkinson's with fellow sufferer Robin Williams before he died;
he would like to return to stand-up but isn't sure about his physical condition;
he fears he made a fool of himself when he was knighted at Buckingham Palace last year;
he has volunteered to be a guinea pig for pioneering research by Harvard scientists, which involves taking cells from the brains of aborted human foetuses and injecting them into the brains of sufferers of Parkinson's.
On becoming Sir William, he said: 'At one time I'd have hated the very idea of it – the hippy Billy Connolly would have thought it was all nonsense. But I've mellowed as I've got older and to turn it down would have been churlish.'
But he admitted that he was nervous to meet Prince William, which combined with the Parkinson's meant his mouth 'stopped working'.
'I flubbered and I bejabbered,' he writes. 'The Prince asked me something – fuck knows what it was – and I said, "Flabgerbelbarbeghghghgh".
'Honestly, he must think I'm a complete simpleton. I'd love to meet him again to apologise, and to show him I'm not a total idiot.'
Connolly was diagnosed with Parkinson's when a fan approached him in a hotel lobby and said: 'I'm a doctor. I've been watching you walking in and out of here and you have a strange gait. I think you have got early-onset Parkinson's disease. You need to go and see your doctor.'
Which he did, and had the diagnosis confirmed - in the same week he learned he was going deaf and that he had prostate cancer.
He now wears hearing aids and had successful surgery to remove his prostate.
'The thing that I find hardest about my Parkinson's is coming to grips with the fact that it's never going to go away,' he writes.
'Everything that has ever been wrong with me in the past always went away, eventually. It was either operated on or it cured itself. This isn't going anywhere: in fact, it's going to get worse.'
He also that he used to speak to Robin Williams about Parkinson's 'a lot'.
'He would call me and we would compare notes and symptoms,' he revealed.
'Robin worried about it a lot. He got quite ­luvvie towards the end, and the last time that he phoned me, before he died [by suicide in August 2014], he told me that he loved me.
'I said that I loved him, too, and he said: "No, I love you like a brother – do you realise that?" I told him that I did, because I did.'
He says his condition has stopped him from doing gigs, but adds: 'I would like to do more. I don't know what the future holds in that respect because I don't know what state I will be in.'
Connolly's new book, Made In Scotland, will be published by BBC Books on October 18. Click here to order a copy for £13.
Published: 7 Oct 2018
What do you think?