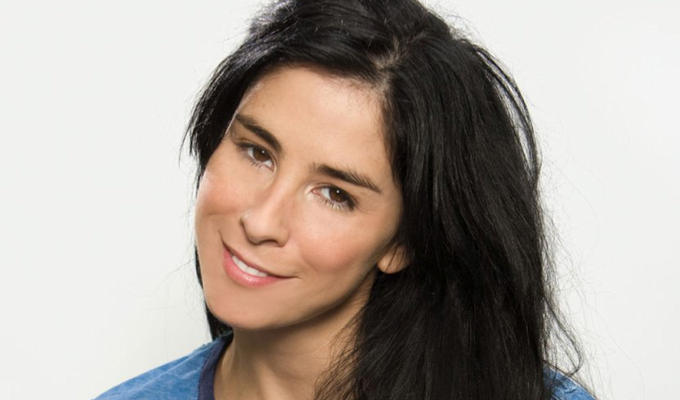 Now Sarah Silverman's tweets are being used against her
Sarah Silverman has become the latest liberal comedian to be challenged over bad-taste jokes tweeted in the past.
Right-wing website Town Hall unearthed a nine-year-old gag in which she wrote: 'Hey, is it considered molestation if the child makes the first move? I'm gonna need a quick answer on this.'
Hey, is it considered molestation if the child makes the first move? I'm gonna need a quick answer on this.

— Sarah Silverman (@SarahKSilverman) July 7, 2009
They also found a 2011 tweet she posted about retired college football coach Jerry Sandusky, who was convicted of rape and child sexual abuse. That read: 'AOL puts Sandusky news on their sports page. Molestation is physical but it's not technically a sport is it?'
The American right have been targeting Trump critics by unearthing tweets in dubious taste – a tactic they say they got from the left.
They have already claimed the scalp of James Gunn, fired from directing Disney's Guardians Of The Galaxy 3 after he refused to apologise for bad-taste jokes, and this week also targeted Rick & Morty creator Dan Harmon over a pilot he made in 2009 in which he faked sex with a doll.
Town Hall's latest storey was entitled: 'Disney voice actress and comedian Sarah Silverman also joked about molesting children.'
The comic was challenged over her tweet last year, prompting her to respond: 'Comedy is subjective. I thought it was a funny/dumb tweet 8 years ago when I posted it.'
Mike Cernovich, an alt-right blogger who notoriously spread the Pizzagate conspiracy theory, has admitted using Twitter histories to target political opponents, having seen the success liberals had in getting conservatives fired for offensive tweets
He has targeted comedians including Patton Oswalt and Michael Ian Black, notably the latter's tweet: 'I don't like watching iCarly with my daughter because there is nobody on that show I want to molest.'
One tweet Oswalt has been taken for task over read: 'Rap is performed by monkeys in expensive clothes. Sorry if I offended you, white conservatives, but it's the truth.'
However, it was actually part of a two-part tweet, the first of which read: 'And I'm sorry, but I fucking HATE FOX NEWS. Bunch of race-baiting corporate shills. All of their medieval, fact-free clapt'
Trevor Noah was also this week rapped for racism over a 2011 routine about Aboriginal women, although the criticism of him appeared – at least initially – to be apolitical. However, it was subsequently lept upon by conservatives.
The right's campaign appears to have stepped up after Roseanne Barr was fired from her own ABC show for writing a racist tweet about former Barak Obama adviser Valerie Jarrett.
Published: 26 Jul 2018
What do you think?