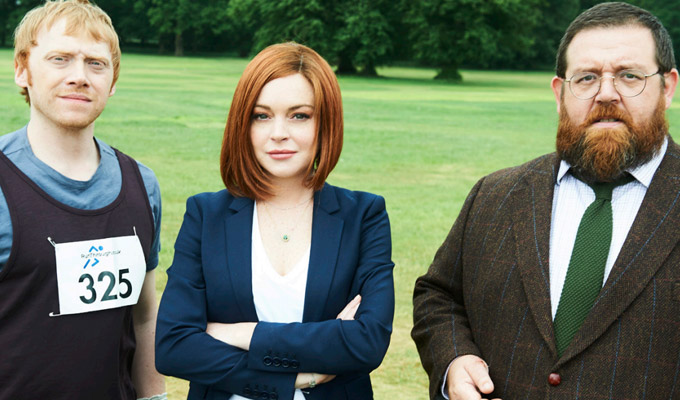 Return of a sick comedy
The week's best comedy on TV and radio.
Wednesday July 25
DOUBLE ACTS: Dame Barbara Windsor tells the story of Bud Abbott and Lou Costello in this Radio 2 documentary, from their meeting on the soon-to-be-outlawed burlesque circuit in 1934, via Broadway to Hollywood, where they became the No 1 box office attraction by 1942, and on to radio and the new medium of television until their partnership dissolved in 1957. This programme is the first in a four-part run exploring the histories of some of the world's greatest comedy duos. Later Christopher Biggins will speak about Gert and Daisy, theatre impresario Bill Kenwright will discuss Dean Martin and Jerry Lewis, and Michael Crawford will tackle Laurel and Hardy. Radio 2, 9pm
Thursday July 26
SICK NOTE: Sky One's comedy about a lie that spirals out of control returns and, this time, Lindsay Lohan joins the cast alongside Rupert Grint and Nick Frost. Daniel (Grint) is still pretending to be ill with cancer - but his online gaming buddy, Will_5000, rocks up threatening to spill all the secrets. Sky One 10pm. The full series will also be made available on demand from today, too.
JOHN BISHOP: IN CONVERSATION WITH: Katherine Ryan is the guest this week, speaking of how she coped with being a single mum just as her comedy career took off, as well as reminiscing on growing up in a small Canadian town and being diagnosed with lupus. W, 10pm
BROOKLYN NINE-NINE: The fifth series of Andy Samberg's lively cop comedy arrives on E4. E4, 10pm.
Friday July 27
8 OUT OF 10 CATS DOES COUNTDOWN: Sean Lock and Miles Jupp take on guest captain Alan Carr and Roisin Conaty, with Ivan Brackenbury in Dictionary Corner. Channel 4, 9pm
Saturday July 28
STEWART LEE: CONTENT PROVIDER: More than two years after pulling the plug on the stand-up's Comedy Vehicle, the BBC welcomes back Stewart Lee for his latest tour show, which he performed for 214 dates around a divided Brexit Britain. The show is described as his attempt to understand his place in a digital dystopia. BBC Two, 10.45pm
Published: 22 Jul 2018
Recent News
What do you think?