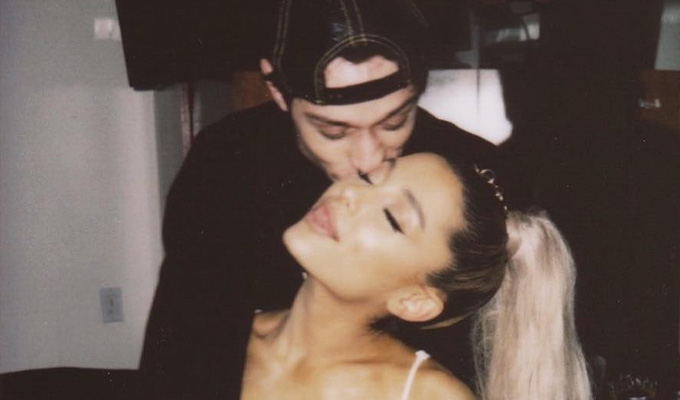 'We all deal with trauma differently'
Ariana Grande has defended her comedian fiancé over a joke he made over the terrorist bombing at her Manchester Arena gig, but admitted she found it tough to deal with.'
At a gig five months after the bombing in May last year, Pete Davidson, made the joke to underline how famous Grande had become.
'Britney Spears didn't have a terrorist attack at her concert,' he told an audience at the Laugh Factory in Los Angeles.
Davidson was not dating Grande at the time.
But since the gag resurfaced, fans have questioned why the singer was still with the Saturday Night Live comedian.
One Twitter user calling themselves Oscar said: 'I respect Ariana and I want her to be happy and everything, but she was just broken after the Manchester bombing, so I don't know why she is still with Pete, like yeah he made that joke a while ago, but like it's not funny, its just rude. This is my opinion.'
In response, Grande tweeted: 'This has been v tough & conflicting on my heart. he uses comedy to help ppl feel better ab how f-ed up things in this world are. we all deal w trauma differently. I of course didn't find it funny. it was months ago & his intention wasn't/ is never malicious but it was unfortunate.'
The Manchester Arena claimed the lives of 22 people and injured more than 800.
Survivors and relatives of victims slammed the joke. Jade Clough, 30, who was injured in the attack, told the Mirror: 'This isn't something to joke about, it was a terrorist attack targeted at children. You don't joke about things like that in a stand-up comedy show.'
Grande, 25, has revealed she has post-traumatic stress disorder from the attack.
And Davidson, 24, is no stranger to tragedy either. He was seven years old when his firefighter father was killed in the terrorist attacks in New York on September 11, 2001, and has sometimes made jokes about the incident.
In a brutal Comedy Central roast in 2016, Jimmy Carr made Davidson's dad, Scott, a punchline when he said: ''This is not the roast of Pete Davidson's father. That was in 2001.'
And at the roast of Justin Bieber in 2015, Davidson himself said: 'I lost my dad on 9/11, and I always regretted growing up without a dad … until I met your dad, Justin. Now I'm glad mine's dead.'
Published: 6 Jul 2018
Recent News
What do you think?