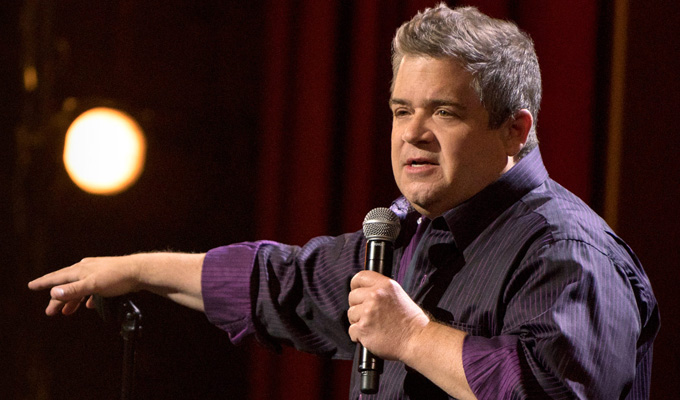 How can you make jokes about grief?
This week's comedy on demand…
Hannah Gadsby: Nanette
Most things we list here each week are suggestions. This one's a must-see, as our review explains. On Netflix now.
The Death of Stalin
Armando Iannucci's more-or-less historically accurate take on the succession battle in the Soviet Union following the brutal dictator's demise arrives on Amazon Prime this week, where it's free to subscribers.
Dark comedy mixes with grim realities in a show that features universally strong performances, from Simon Russell Beale as the intense and sinister secret police chief Lavrentiy Beria to Jeffrey Tambor as his main rival, the vain and ineffective  Georgy Malenk. Watch here and read our review here
Good One: A Podcast About Jokes
This relatively long-running American podcast, hosted by Vulture.com's Jesse David Fox, features a comedian talking about the genesis of one of their bits.
This week's episode is particularly fascinating as the guest is Patton Oswalt, who talks about the process of writing comedy about the heart-wrenching events around his wife's death, which left him to look after his also-grieving daughter alone.
He explains how he found the funny in this tragedy for a Netflix special here.
Previous episodes have featured Trevor Noah's writing team, Bill Burr, David Cross and many more.
Bobby Knutt: The Life Of A Stand-Up Comic
Here's an interesting historical tidbit about the life of 1970s club comic, recorded for BBC School programming, with Knutt talking about the realities of life on the circuit, the  mystery of why some nights go well and some don't, and discussing with his agent whether he should do the Black and White Minstrel show or not. Though the only question is his billing,  the ethics clearly wasn't a consideration back then.
But while the material has changed in 40 years – his opening gag is about women who dare to be going out without their husbands – the basics of the job haven't.
Knutt went on to play Albert Dingle in  Emmerdale and Eddie Dawson in Benidorm, and died last year at the age of 71.
From Russia with Lou & Annie
Gary Lineker can probably rest easy… Comedians Lou Sanders and Annie McGrath don their metaphoric sheepskin coats to present their take on each day's matches  at the Russia World Cup 2018 in this lo-fi show.
It's not entirely insightful, but does offer a bluffers' guide that might get non-footy fans through a pub conversation.
Guests sending video messages include David O'Doherty,  Ellie White, Ian Smith and  Dan Cook. Here is the playlsit so far
Published: 23 Jun 2018
What do you think?